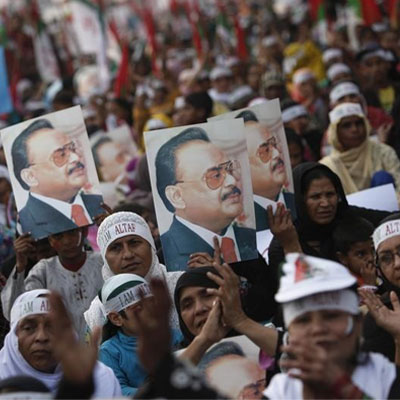 Pakistan's powerful Muttahida Qaumi Movement leader Altaf Hussain was today arrested in London on charges of money laundering, sparking panic in his power base of Karachi where gunshots were fired, vehicles set ablaze and British diplomatic facilities closed down. "Officers have this morning arrested a 60-year-old man on suspicion of money laundering. The arrest took place at a residential address in north-west London. He has since been taken into custody at a central London police station and enquiries continue," the Scotland Yard said without disclosing the exact identity of the individual for "legal reasons".
Officers were searching the politician's home in Edgware area of north London. Hussain, the chief of the Muttahida Qaumi Movement (MQM), has lived in the UK since claiming asylum in the 1990s but has maintained a tight grip on Karachi, Pakistan's largest city. The MQM is the single largest party in Karachi and has since the late eighties dominated the city's political landscape at the local and provincial level.
Hussain's arrest was confirmed by MQM officials in London.
A spokesman for the British High Commission said the UK's consulate in Karachi has been temporarily closed down.
Prime Minister Nawaz Sharif said that the issue of Hussain's arrest was of an extremely sensitive nature and the government would take all legal angles into account. He directed that the Parliament be taken into confidence over the matter. Hussain had been ill for some time and was scheduled to be shifted to a hospital today when the police arrived at his residence, MQM's Nadeem Nusrat said while addressing journalists via telephone from London. The impact of Hussain's arrest could be immediately felt in his home city Karachi as choas and fear prevailed.
Within a matter of hours, fear and panic spread with markets, petrol pumps, banks closing down and people rushing home fearing violence. Pakistan Railways stopped all operations to Karachi following Hussain's arrest.
Even as the MQM appealed to the people through the media to remain calm and peaceful, many incidents of firing and setting ablaze vehicles were reported in Karachi. Hussain has been under investigation for money laundering worth at least 400,000 pounds, for inciting violence and in connection with MQM leader Dr Imran Farooq's murder. His London residence was raided on money-laundering suspicion in 2012 and 2013 by British police.