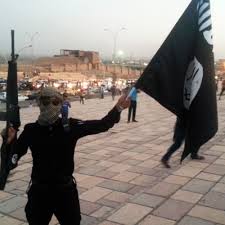 Foreign office of Pakistan government has denied knowledge of citizens working in association with the Abu Bakr al-Baghdadi led ISIS. "Reports about ISIS in Pakistan's tribal areas are not correct and Pakistani forces are fighting against terrorists and this fight is in the middle of its success," Foreign Office (FO) spokesperson Tasneem Aslam said to media outlets.
The government was forced to give this explanation after reports arrived about small group of activists belonging to ISIS distributing promptional booklet in parts of Khyber Pakhtunkhwa and tribal areas, particularly in Afghan refugee camps.
ISIS has currently spread a mayhem in Iraq and Syria. Their brutality has reached such an alarming level that even arch rivals Iran and USA are reportedly looking to work together to contain these terrorists. Now in a worrying development, ISIS literature has been discovered in Pakistan. The booklet calls upon people to support ISIS. It gives the audacious claim, that the Caliphate declared in parts of Iraq and Syria will expand to Khurasan, comprising Pakistan, Iran, Afghanistan and Central Asian countries.
The booklet in Pashto and Darri is titled Fateh (victory). It reportedly has the images of the ISIS flag and Kalashnikov on its cover. Media reports suggest the booklet has also been distributed in some parts of Afghanistan. This news comes on a day when the news of Al-Qaeda creating a new branch in India is making headlines all over.
Thus presence of ISIS, even in a nominal level close to home will certainly be a cause of concern for the security officials in India. However, Pakistani officials are still not really concerned about ISIS's threat in the country. Media reports have quoted military officials, who believe that local militants owe allegiance to Afghan Taliban leader Mullah Mohammad Omar. Apparently, Al Qaeda had been operating in the region for a long time and will not allow ISIS to spread its Jehadi activity.