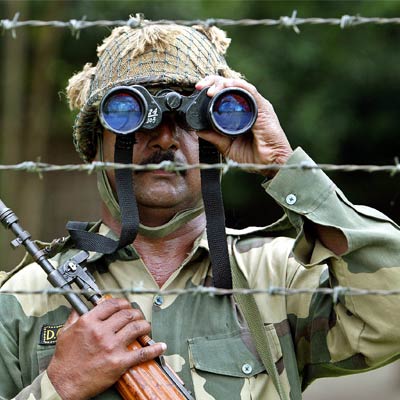 In a major ceasefire violation, Pakistan Rangers indulged in heavy firing and shelling on 15 border outposts and several villages along the International Border in Jammu district, damaging houses and livestock.
There was heavy firing and shelling of mortar bombs targeting 15 border outposts (BoPs) and several border hamlets in Arnia and R S Pura belts of Jammu district since 0200 hours today, a senior government official told PTI. Voicing concern over repeated ceasefire violations, Chief Minister Omar Abdullah today said Prime Minister Narendra Modi should take up the issue with Pakistan.
The official said BSF troops guarding the borderline retaliated to Pakistan shelling, resulting in exchanges, which continued till this morning.
Three heads of cattle were killed and six injured due to mortar shell blast, he said, adding houses were also damaged.
There was no official word on the firing from BSF in Jammu frontier.
Villages and BoP areas of Bakarpur, Gharna, Sai, Kaku-de-Kothey, Pittal, Pindi and Suchetgarh were affected in the fresh round of firing by the forces from across the border. Villagers preferred to remain indoors and avoided working in their fields, the official said.
Deputy Commissioner, Jammu, Ajit Singh rushed to the Arnia belt and reviewed the security measures for the people. "We have already identified accommodation for providing safe shelter to border population in case the firing from Pakistan escalates," Sahu said.
Divisional Commissioner of Jammu region, Shant Manu, said that Chief Minister Omar Abdullah, who had come to Jammu, had reviewed the situation arising from escalation in firing and shelling from Pakistan. "We are not worried about China now because they don't harm us anymore. But it (ceasefire violation) has increased from Pakistan's side and is a matter of great concern as they are hampering life. I want the Prime Minister to talk to Pakistan authorities that it's not right," Omar said.
"Modi has good relations with Pakistan Prime Minister Nawaz Sharif and they communicate on Twitter. So they should also get this message that India wants peace, friendship and good relations and the way they are harming through ceasefire violation is not right," he added.
This is the fifth ceasefire violation since July 16. On July 18, Pakistan Rangers targeted BoPs with small arms and automatic weapons along IB in Arnia belt of Jammu district.
A BSF trooper was killed and six persons, three of them security personnel, were injured when Pakistan Rangers had fired heavily at Arnia forward positions along the International Border in Jammu district Wednesday morning.
Congress leader Ghulam Nabi Azad too expressed concern over the ceasefire violations and said while the BJP had attacked the UPA government over the issue, it was "doing nothing" after coming to power to stop such incidents. "For past two months since Modi government took over, there have been 25 ceasefire violations and they are doing nothing.
"It is time for Modi and BJP to give an answer," he said, adding, "It is matter of concern that firing is going on for past few days on Jammu borders".
On July 16, Pakistan Rangers after a brief lull resorted to firing on BoPs along IB in forward belt of Arnia in R S Pura tehsil of Jammu district. BSF replied effectively to Pakistani firing.
Senior BSF officers including Director General of BSF D K Pathank had rushed to area in Pindi and Pittal on July 18 and reviewed the situation in wake of truce violation by Pakistan. BSF authorities have asked all the border guards to be alert on their posts and forward BoPs.
Ceasefire violation on the Wednesday morning came after the two sides held a flag meeting at Chambiliyal BOP in Samba district on Tuesday to discuss removal of wild bushes along the zero line and adjoining areas to improve visibility during patrolling.
On July 12, Pakistan Rangers targeted the Indian posts in Pindi belt along the International Border with small weapons. In June, Pakistan violated the ceasefire five times along LoC and IB in Jammu region. There were 19 incidents of ceasefire violation along the LoC in April-May.