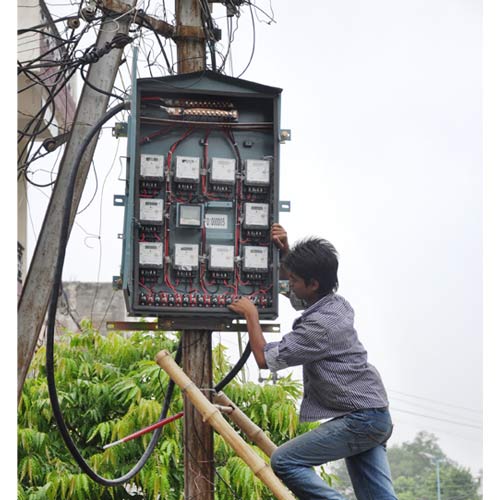 Uttar Pradesh has 121 big power consumers who have Rs 1 crore or more worth pending electricity bills. The total power bill that these consumers have to pay is Rs 1007.01 crore. Noida Power Company Limited (NPCL) of Greater Noida tops the list with Rs 276.72 crore outstanding. The revealation came to the fore during the reply by the state government on a question asked by Congress MLA Anugrah Nariain Singh and BJP MLA Upendra Tiwari during question hour in UP Assembly on Wednesday.
Interestingly, several of the answer sheets given to the mediapersons didn't have the answer to this query. The answer was also not uploaded online.
As per the government reply, Paschimanchal Power Corporation (West UP) accounts for maximum chunk of the total dues to be recovered — Rs 567.54 crore, while the least is to be recovered by Kanpur Electric Supply Company (Kesco) at Rs 38.93 crore.
Dues to be recovered by Madhyanchal amounts to Rs 170.10 crore while Purvanchal has to recover Rs 90.63 crore and Dakkshinanchal has to recover Rs 139.81 crore. None of the defaulters has less than a crore pending against them.
Jal Sansthan office at Aishbagh in Lucknow owes Rs 91.35 crore to UPPCL. Similarly, 13 institutions under LESA's jurisdiction collectively owe Rs 112.12 crore. In the same way, six private institutions in Bareilly have dues pending against them to the tune of Rs 21.15 crore. Five factories in Meerut have to collectively pay Rs 11.05 crore, six factories of Moradabad have to pay Rs 31.11 crore and 18 factories have to pay Rs 168.43 crore as electricity dues.
Similarly, in Saharanpur region, 27 factories owe Rs 63.79 crore, 3 factories in Varanasi, which is now Prime Minister Narendra Modi's constituency, have to pay Rs 8.4 crore and four factories in Gorakhpur have to pay Rs 38.6 crore. Mirzapur's joint hospital at Anpara has Rs 4.18 crore dues pending against it. Similarly, Churk Cement Corporation Colony has dues to the tune of Rs 20.17 crore.
Gurma Unit Colony in Mirzapur owes Rs 3.68 crore as dues. In Allahabad, Mau Aima and four other weaving units together have Rs 15.55 crore as dues against them.
In Faizabad, 3 power units have Rs 5.23 crore as dues pending. Similarly, against four units of Lucknow dues pending are Rs 31.6 crore.
Interestingly, Estate Department's Vidhayak Niwas at Darulshafa has 1.45 crore dues as electricity bill. Indira Bhawan housing major state government offices as Rs 2.69 crore as due pending, Jawahar Bhawan has Rs 1.96 crore, Mantri Awas (Bahukhandi) has Rs 1.49 crore and VVIP guest house on Meera Bai Marg has dues pending to tune of Rs 1.24 crore.
BJP MLA Upendra Tiwari later talking to TOI said that this has exposed the Samajwadi Party government which wastes no time in putting farmers behind bars if they have pending dues in thousands while has failed to take action against these defaulters. Had they realised the pending bills from these 121 defaulters, several villages might have got electricity, Tiwari further said.