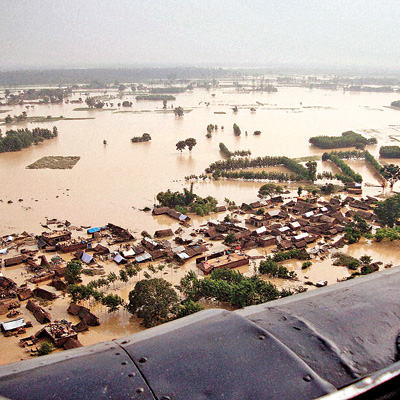 While the rest of the country was busy celebrating Janmashtmi and getting over the hangover of the 68th Independence Day celebrations, lakhs of people marooned in eastern UP villages were struggling and praying just to stay alive in the face of a ravaging onslaught of swirling waters from rivers flowing dangerously above their red (danger) marks.
Over a thousand villages are flooded in nine districts of east UP. As many as 31 people have died and about half a million are affected by the floods aggravated by the unannounced release of waters from Nepal. The worst-hit district in UP is Bahraich, which is cheek by jowl with Nepal. Over 200 villages are virtually submerged under water and lakhs have been displaced in this remote eastern UP district which has recorded the maximum number of deaths (15) due to floods. Official sources say Army helicopters have been dropping food packets in the affected villages there.
What is worse is that electricity supply to this vast swathe of eastern UP has been cut off so that no one gets electrocuted. If that was not bad enough, things are expected to get worse with the Met officials predicting heavy rainfall in UP's eastern parts in the coming days.
Shravasti, Balrampur, Sitapur, Lakhimpur Kheri, Gonda, Barabanki, Faizabad and Azamgarh are the other districts in the state that have been badly affected by the floods.
"We are doing our best to reach relief to the affected people," UP chief secretary Alok Ranjan told dna. He said at least six lakh hectares of land had been affected and over 600 houses had been washed away. So far, 17,000 villagers have been rescued and efforts are on to reach remote areas surrounded by flood waters, he added. The state government has released Rs51 crore as relief for the flash flood-hit districts, Ranjan informed.
The Centre has issued an "unprecedented flood situation" warning for the Rapti, which is flowing above the danger mark in eastern UP. It threads through densely populated parts of the state.
Chief revenue officer, Bahraich, Uday Shankar described the floods as unprecedented. "This is after 20 years that such floods are being seen in this district. The sudden release of water from Nepal gave no time to the villagers to prepare for evacuation. Many link roads and the main road connecting Bahraich to Shravasti are cut off. Most of the area is flooded due to the bloated Saryu," he said.
TV visuals show cattle, children and elders standing on embankments, swimming through flooded villages, marooned atop their submerged houses or being ferried by boats along with their bedding and gunny bags of wheat and grass.
A senior irrigation department official said despite relief work on a war-footing 60 villages of Bahraich were still inaccessible. Helicopters have been dropping food packets there, he said.
In Barabanki, the Ghaghra is dangerously on the rise. District magistrate Yogeshwar Ram Mishra said though the situation here was not as bad as in Bahraich, as many as 70 more villages here were affected on Sunday and 25 of them have completely been evacuated, with people living in tents at embankments with their families and cattle. "We are trying to evacuate villages and no deaths have occurred here till now," he said.
UP chief secretary blames Nepal
UP chief secretary Alok Ranjan has squarely blamed Nepal for the flash floods in eastern UP districts. "Rivers like Rapti and Ghaghra were over flowing because of excess release of water from Nepal. While the Rapti was over flowing because authorities in Bhalubang, Bhairahwa and Kusum barrages in Nepal released excess water, the Ghagra has swollen due to release of flood waters from Chisapani barrage in Nepal. The other terai rivers in spate are Saryu and Sharda," he told dna on Monday.
Ranjan said engineers of the irrigation department were monitoring the situation round the clock lest more fresh areas were inundated. The Nepal authorities never informed their UP counterparts in advance, he said, adding, "this could have given us some time to evacuate the villagers in time."
He said para-military forces had been pushed into service and Army had been asked to stand by. The UP government has called in Army choppers for rescue work while a team of NDRF has been rushed from Varanasi to Bahraich. Around 5,000 people were rescued by the PAC and NDRF teams, Ranjan said.
"Medical teams have been rushed to Bahraich while PAC has deployed 19 motorboats and 378 boats to rescue the people," he said.