Mamata removes Birbhum police chief, court remands 13 accused to judicial custody.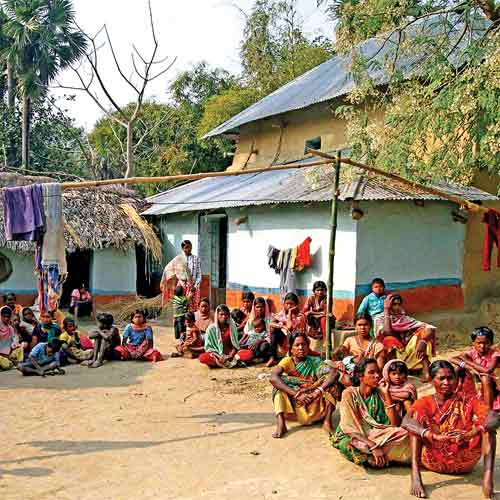 The gruesome incident of a gangrape of a 20-year-old tribal girl by more than ten men at a kangaroo court of Subalpur in Birbhum district triggered a widespread condemnation giving a potent political ammo to the Congress and the opposition Left Front to severely criticise chief minister Mamata Banerjee.
Governor MK Narayanan called for corporal punishment of the accused while chairperson of National Commission of Women Mamta Sharma called Banerjee irresponsible for failure to act on several of recent incidents of violence against women. In her statement to the police, the girl said she lost count of how many raped her but identified several of them as villager elders .
After being accused of having a relationship outside community, the girl and the boy were told by the village head to pay up Rs25,000 each. While the boy was let go after he paid the money, the girl was detained and raped throughout the night and then dumped in a nearby jungle.
Police claimed that all the 13 men, including a local leader of Trinamool Congress and the village chief and who ordered the gang rape on Tuesday morning have been arrested and were subsequently produced in court which sent them to 14 days judicial custody. The state's chief minister, who was on her way back from tour of Darjeeling after a flurry of events kept mum on this, instead choosing her lieutenants like Mukul Roy to do the talking. However, she removed Birbhum police superintendent C Sudhakar during after the media highlighted that police custody, and not judicial custody should have been sought in this case.
Police custody is preferred and is a norm for non-bailable offence as it gives the police access to the accused while in case of judicial custody, perpetrators of crime are in custody of a magistrate.
Removal of police chief was criticised by leader of opposition, Suryakanta Mishra as an eyewash while state Congress chief Pradip Bhattacharya said the party is considering calling a state bandh. Top administration sources said that explanation was sought from the senior police officer. Sources said that case would be taken up afresh so that the police could seek police remand of the accused.
Banerjee, who also looks after home portfolio, condemned the incident and directed that SP Darjeeling Kunal Agarwal would take over in Birbhum.
The woman's family, in their complaint, said she was gang-raped by 13 persons after a salishi sabha or kangaroo court decided to punish her on January 21. The victim said that among those who brutalised her were people old enough to be her father. The victim and her paramour were caught, tied to a tree and assaulted after which they were asked to pay a fine of Rs50,000. The gang-rape took place after the girl said that she was unable to pay.
"The morol (village headman) ordered that I be 'enjoyed' by the men of the village. Following his orders, at least 13 people, including (some) members of a single family, continuously raped me. I lost count of how many times I was raped," said the victim.