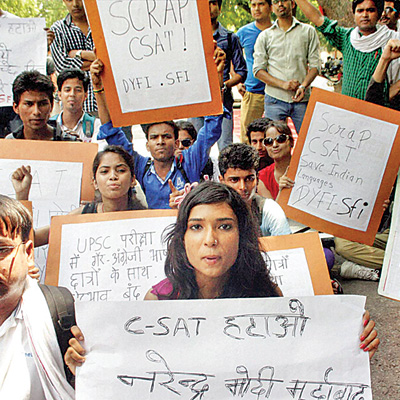 Furore over the Civil Services Aptitude Test (CSAT) continued to give the NDA government a headache with students not letting up on protests and lawmakers disrupting the Parliament on Tuesday.
There appeared no solution to the civil services imbroglio a day after the government partially yielded to civil services aspirants' demands by announcing its decision not to count the score for English comprehension skills in the August 24 preliminary examination, and giving 2011 aspirants another shot to take the exam. Aspirants have been demonstrating against CSAT for a few weeks. They contend that the English comprehension section is biased and have demanding entirely scrapping CSAT, postponing the Aug 24 prelims and extra attempts to all aspirants who sat in prelims even after 2011 when it was introduced.
Political parties have latched on to the issue. Chaos ensued in the Parliament on the second consecutive day with the Opposition forcing several disruptions in both the houses over CSAT. JD(U), RJD, SP, DMK leaders demanded that CSAT be scrapped and asked the "arrogant" government to do justice to the students.
"We feel the government is playing with Indian languages, including Hindi," said RJD MP Jay Prakash Narayan Yadav. "There was a demand in Parliament and also on the road by the students to abolish CSAT.
Injustice is being done to the students by not abolishing CSAT. The government is arrogant about the mandate it has got and we will fight this out in Parliament as well as on roads."
The BJP tried to blame the Congress-led UPA governments for the current mess. But the Congress in turn questioned the relevance of the English exam if that score was going to be excluded and how would giving aspirants another attempt address their problem.
Government sources, however, said there is little chance of amending the rules any further as it would put the whole process of UPSC examinations in disarray. The government and the BJP party appeared firm on their ground. Party sources said that parliamentary affairs minister M Venkaiah Naidu had informed the BJP parliamentary meeting that the best available solution to the UPSC controversy has been found and nothing more can be done at this stage.