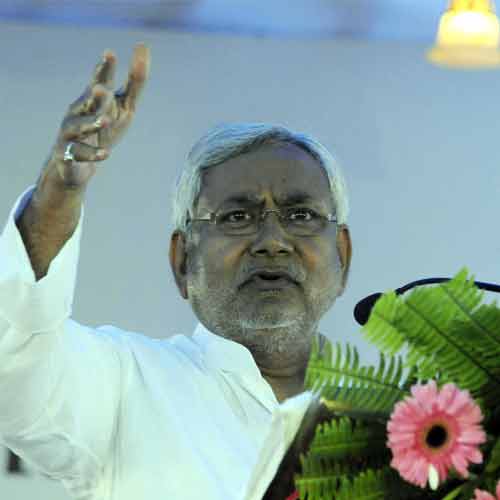 With opinion polls on televisions showing him a bad loser in the coming Lok Sabha elections in Bihar, Chief Minister Nitish Kumar today discarded such surveys as "PR campaign to boost TRP" by "rumour master" and said poll results would send them into "deep shock".
"These surveys are nothing but a Public Relation campaign which are beamed on TVs to increase their TRP," Kumar said,addressing a birth anniversary function of veteran socialist leader Karpoori Thakur.
"Some surveys show that more than 63 per cent people say they are satisfied with performance of my government but will not vote for me," he said.
"Have you ever heard somebody saying I am satisfied with your work but will not vote for you?" he said picking holes in the conduct of surveys.
Major poll surveys are predicting only single digit seats to JD(U) out of the 40 Lok Sabha seats in Bihar, half of which they are saying would go to BJP and a substantive increase for RJD of Lalu Prasad.
With JD(U) President Sharad Yadav and other senior party leaders on dais, Kumar said he has been in politics for a long time and served as MP six times and understands the politics played by BJP and RSS.
Making a scathing attack on his former NDA ally BJP, Kumar who is nowdays the target of that party for parting company,said Loknayak Jaiprakash Narayan (JP) had told them about the real characterstic of RSS.
"It's more than 7-8 parts are inside the soil and only one outside," he said recalling words of JP to describe RSS, ideological fountainhead of BJP.
In an apparent dig at his rival Narendra Modi, Kumar termed him "rumour master" and accused him and the BJP of launching "disinformation" campaign against him.
Kumar said as part of "sinister" designs, they are spreading rumours that JD(U) was good in Assembly but since the party does not have any chance of making any of its leader Prime Minister there was no point "wasting" vote on them.
"Do they think we are fools... if we lose in Parliamentary polls, will we be able to remain in power in the state?" he asked and called on partymen and supporters to beware of such rumours.
Taking potshots at BJP, Kumar said they have been observing birth anniversary of Karpoori Thakur and praising him despite forgetting the fact that they had unseated him from power in the state in 1980.
Karpoori Thakur was the Chief Minister of Bihar when Janata Party government was formed in the state in 1977 in which Jansangh was also a member.
"And after deposing from power, they led a campaign against the veteran socialist leader like they are doing against me now after the split in NDA," he said.
BJP President Rajnath Singh had highlighted the poor background of the socialist leader and compared him with their Prime Ministerial candidate Narendra Modi, at a party function to observe Karpoori Thakur anniversary on Wednesday.
Nitish ridiculed Modi for trying to highlight his backward caste, and said "people become representative of some caste and groupings only through work and not birth".
Without taking any names, the Chief Minister said "a big leader" was trying to spread a rumour that Parliamentary elections "has no meaning for JD(U)", and asked the people to ensure maximum seats to his party in the Lok Sabha elections.
Kumar slammed former Deputy Chief Minister Sushil Kumar Modi for criticising the government's decision to raise the price of paddy to Rs 250 per quintal.
"He seems to have forgotten everything he had learnt when he was minister in my government as what time paddy procurement starts," he said, ridiculing his former deputy.