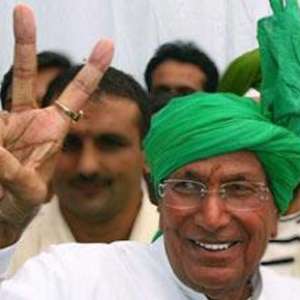 Delhi High court has given extended interim bail till August 1 2014 to Ex-Haryana CM OP Chautala involved in recruitment scam.
Prior to this, the Delhi High Court had reserved its verdict on appeals of 55 convicts including ex-Haryana CM OP Chautala in the Junior Basic Teachers' recruitment scam case.
On July 11, Delhi High Court had extended the interim bail of seven convicts in the said scam also involving former Haryana Chief Minister Om Prakash Chautala and his MLA-son Ajay Chautala till July 25.
A bench of Justice Siddharth Mridul granted the relief to seven convicts including Ajay Chautala, Sher Singh Badshami and suspended IAS officer Vidy Dhar.
The court had also asked CBI and the prison authority to verify the claims of 17, out of 55 convicts, who had also sought interim bail on medical grounds and had fixed the matter for hearing on July 17.
The court had also granted bail to convict Narain Singh Ruhil on health grounds for eight weeks and directed him to furnish a personal bond of Rs 25,000. On January 22, 2013, a special CBI court had convicted and sentenced Ajay Chautala, Om Prakash Chautala and eight others, including Vidya Dhar and Badshami, to 10 years jail term for illegally recruiting 3,206 junior teachers in the year 2000.
Among other convicts, 44 have been sentenced to four years in jail and one to five-year jail term. All of them were held guilty of cheating, forgery, using fake documents as genuine, conspiracy under IPC and for abusing their official position under Prevention of Corruption Act.
Madhya Pradesh Chief Minister Shivraj Singh Chouhan had announced that irregularities committed during previous Congress regime in recruitments for government jobs would be probed and all efforts made by the Opposition to take his wicket on the MPPEB scam would prove futile.
"I am not a wicket of cricket. I am like Angad's (mythological character in Ramayana) foot and all Congressmen even if they come together would not be able to displace me from my position," Chouhan said addressing BJP MLAs in the State Assembly auditorium after he was not allowed to reply on the adjournment motion moved by the Congress on the mega exam scam.
"During the Congress regime, appointments were made by just relaxing rules including in Rewa district where large number of such recruitments were made without any rules and regulations and my government will probe all such cases," Chouhan had told reporters.
What is Recruitment scam?
In June 2008, Chautala and 53 others were charged in connection with the appointment of 3,206 junior basic teachers in the state of Haryana during 1999-2000. In January 2013 a New Delhi court sentenced Chautala and his son Ajay Singh Chautala to ten years imprisonment under various provisions of the IPC and the Prevention of Corruption Act.
Chautala was found guilty of illegally recruiting over 3000 teachers. A CBI investigation was ordered by the Supreme Court during NDA regime led by Atal Bihari Vajpayee.
On July 11 2014 the New Delhi High court reserved its verdict in regards to the appeal by Chautala.
(Inputs from agencies)