MPs wear allegiance on sleeve, take pledge in Sanskrit, Kashmiri, Tamil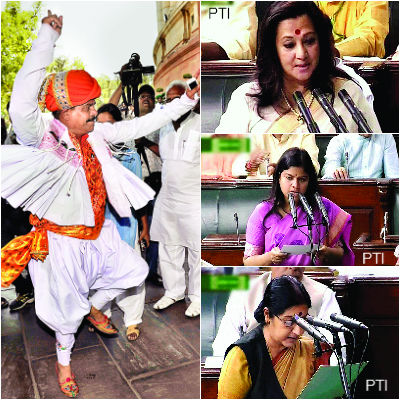 The second day of the 16th Lok Sabha got off to business without much ado. Pro tem Speaker Kamal Nath announced the precedence of oath-taking: Prime Minister Narendra Modi, BJP patriarch LK Advani, Congress president Sonia Gandhi, followed by the three members of the panel of pro tem speakers, and then it followed the alphabetic order starting with Andaman and Nicobar Islands.
Modi, dressed in a white kurta-churidar and achkan, a departure from his cream colour look, took oath as member of the Lok Sabha, followed by Advani and Sonia. Both Modi and Sonia were less outgoing on Thursday than they were on Wednesday. After the oath and the signing of the register, Modi and Sonia greeted the other members but avoided a direct gesture towards each other. Surprisingly, the BJP benches thumped as Sonia walked up to the mike and the Congress benches were conspicuously silent for Modi.
With BJP president and Union home minister Rajnath Singh taking the oath in the order of precedence made it clear that in the Lok Sabha, he is the man next to Modi in the Cabinet hierarchy. Union minister for external affairs Sushma Swaraj followed Singh. Swaraj sprang a surprise by taking her oath in her clear and loud voice in Sanskrit. She got her Sanskrit pronunciation of the words near perfect. "Aham, Sushma... (I Sushma)," she began.
Union minister of water resources, river development and Ganga rejuvenation Uma Bharti, Union minister for health Dr Harsh Vardhan and Meenakshi Lekhi too preferred to take the oath in Sanskrit. There was a touch of novelty to it, and it sounded well enough, like the classical language that it is, without any trace of religiosity attached to it.
Union minister for railways Sadananda Gowda took the oath in Kannada, Union minister for food processing Harsimrat Kaur opted for Punjabi, P. Radhakrishnan for Tamil and Nationalist Congress Party's (NCP) Supriya Sule for Marathi while some of the Telugu Desam Party (TDP) and YSR Congress members preferred Telugu. Mehbooba Mufti of People's Democratic Party (PDP) took the oath in Kahsmiri.
Though the House in its deliberations will be using English and Hindi, members' preferences for the language to take the oath reflected that linguistic diversity of the country which is of continental proportions.