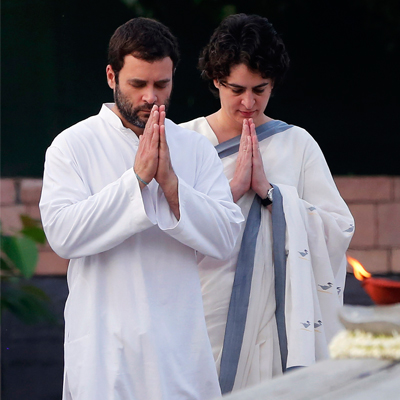 Today is the 23rd anniversary of the sixth prime minister of India—Rajiv Gandhi, who was assassinated on May 21 1991 by the Liberation Tigers of Tamil Eelam (LTTE) suicide bomber in Sriperumbudu, Tamil Nadu.
Earlier today, Sonia, accompanied by son Rahul Gandhi, daughter Priyanka Gandhi and son-in-law Robert Vadra, paid their respects. While the family stands together on Rajiv Gandhi's 23rd Death Anniversary, their sorrow coincides with the defeat of the Indian National Congress in the Lok Sabha elections 2014.
Incidentally, in 1984 Rajiv Gandhi led a historic victory for the party by securing 404 seats in the Lok Sabha—highest majority the country had ever witnessed. Three decades since Rajiv Gandhi's landslide victory in Lok Sabha, his death anniversary marks the triumphant win of Narendra Modi in the Lok Sabha Elections of 2014.
In contrast, his son Rahul Gandhi has driven the Congress to its historic defeat. On May 16, 2014, the Indian National Congress (INC) witnessing its worst defeat since the first Indian general elections in 1951-52. Their current tally of 44 is far lower than their previous worst of 114 (in 1999). The irony lies in the fact that three decades after Rajiv Gandhi's majority mark in history it is the Bharatiya Janata Party's prime ministerial elect Narendra Modi that created history by winning a majority of 284 seats in the Lok Sabha.
President Pranab Mukherjee, Vice President Hamid Ansari, outgoing Prime Minister Manmohan Singh and the late leader's wife and Congress President Sonia Gandhi offered flowers at his memorial 'Vir Bhumi'. Prominent leaders including the Prime Minister elect Narendra Modi as well as Shashi Tharoor paid homage through social media website Twitter, in memory of late Rajiv Gandhi.
My homage to former PM Shri Rajiv Gandhi on his death anniversary.

— Narendra Modi (@narendramodi) May 21, 2014
A dignified, sober&well-attended ceremony at 6am to commemorate the 23rd death anniversary of RajivGandhi. Good crowd pic.twitter.com/HuqJM3bwhO

— Shashi Tharoor (@ShashiTharoor) May 21, 2014
And even though, today, the Indian National Congress (INC) remains defeated, Rajiv Gandhi is remembered for his leadership and diplomacy.
Rajiv Gandhi led the Indian National Congress in their victory after the loss of his mother Indira Gandhi, who was assassinated on October 31, 1984 by her Sikh bodyguards. His charming personality and his energetic youth, drew the masses to building faith in his leadership. His legacy includes a combination of successful economic and foreign policies.
The reduction in License Raj in post 1990 period, introduction of national policies to modernize education were some of the feathers in his cap of great economic policies. He also led the legacy of his mother in working towards poverty in rural areas. He managed to have skillful diplomatic relations with the US and at the same time strengthening bonds of friendship with the USSR.
He was, although, also involved in a number of controversies, including the Bhopal disaster, Shah Bano case, Bofors scandal, that tainted his image.
Commenting on the anti-Sikh riots in Delhi, Rajiv Gandhi had once said, "When a giant tree falls, the earth below shakes". A comment still ringing in the ears of many.
His assassination was the result of personal conflict with the Tamil radical group LTTE for sending the Indian Peace Keeping Force (IPKF) for peace efforts in Sri Lanka during Eelam war (1987). The IPKF was, supposedly, involved in many murderous crimes against Tamils in the Sri Lanka. This action was unpopular in India as well, especially in Tamil Nadu, as India was in the midst of fighting with the Tamil separatists. Rajiv Gandhi refused to withdraw the IPKF, believing that the only way to end the civil war was to politically and militarily force the LTTE to surrender.
"India is an old country, but a young nation; and like the young everywhere, we are impatient. I am young and I too have a dream. I dream of an India, strong, independent, self-reliant and in the forefront of the front ranks of the nations of the world in the service of mankind." - Rajiv Gandhi