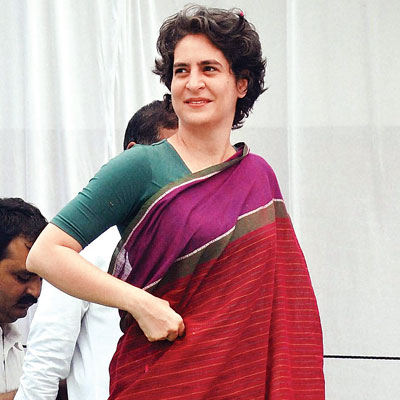 Priyanka Gandhi tried to strike an emotional chord as she targeted BJP's prime ministerial candidate Narendra Modi on Wednesday, this time raking up "snoopgate".
The fresh salvo by Priyanka, who had said on Tuesday that she was pained when her husband Robert Vadra was targeted, was castigated by the BJP which said that the Congress "in desperation was raising personal matters". For the second consecutive day, Priyanka, in her brief speech, took on Modi without naming him.
"If you want to empower women, then why listen to their private conversation in closed rooms," she said, while campaigning for her mother Sonia Gandhi in Rae Bareli. "If you talk of women's empowerment, then how do you want to do it? Tell everyone. Politicians come and talk about women being mothers, sisters, daughters and wives. Even I am a mother, daughter, wife and sister. So are you. But that is not your identity.
Your identity is that you are a woman. So if you are talking about woman empowerment, then tell us how you want to go about it."
Before that she asked if power should be concentrated in one hand. "Think about the nation. If power is concentrated into the hands of one person in the country, is it right or wrong? What is the ideal situation? Who should have power? Power should be in the hands of the people," she said.
Again, without taking names, Priyanka said that the BJP's election campaign revolved around criticism and personal attacks. "This is not real politics. It is all being done to mislead you. The debate should be on issues affecting the people. This is what real politics should be about.... You have to decide if you want to vote for a party that divides people or for one that takes everyone along," she said.
While Modi has been trying to give a message that the campaign should focus on development and governance, the political diatribe has been veering towards polarisation and personal digs. Both sides have been accusing each other of personal attacks.
BJP spokesperson Niramala Sitharaman countered the charges saying Priyanka "has herself broken the rule against personal attacks".
"Its clear that there is utter confusion in the Congress war room," said Sitharaman, recalling Rahul Gandhi raising Modi's marital status.