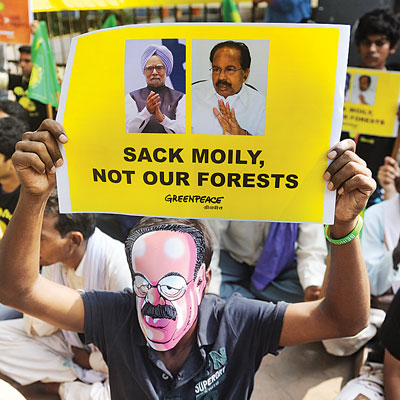 Rubbishing an Intelligence Bureau (IB) report labeling it as being anti-growth and a threat to India's economic growth, Greenpeace India on Wednesday said that the so-called report was a "conscious attempt to crush and stifle opposing voices in civil society".
The organisation asked the Rajnath Singh-led Union home ministry to share the report with it, "if it (the report) exists", and asserted its "legitimate right" to give voice to people's struggle. The organisation also said that it is ready to answer all questions regarding its work in the country.
In a report, the IB has reportedly claimed that Greenpeace is a 'threat to national economic security' and has claimed that there the NGO's role could have negative implications on India's GDP growth. Union home minister Rajnath Singh said he had "no information" about the IB report.
"I have no information. IB gives us daily briefings," Singh told reporters outside Parliament House. However, senior Congress leader M Veerappa Moily said that the government should "seriously look into" the matter if any NGO utilises the funds they receive from foreign agencies for disrupting industrial growth.
Greenpeace also took on allegations of being remote controlled by foreign powers stating that over 60% of its funds (around Rs 20 crore) come from around three lakh individual Indian donors while the rest comes from its parent — Greenpeace International. Greenpeace India said it accepts donations only from individuals and not from corporations or organisations.
"Greenpeace India is an independent organisation, which campaigns for development that is sustainable and growth that is inclusive. We have a legitimate right to express our views in what is after all the world's largest democracy. We believe that this report is designed to muzzle and silence civil society who raise their voices against injustices to people and the environment by asking uncomfortable questions about the current model of growth," said Abhishek Pratap, senior campaigner at Greenpeace.
"How can this be a threat to national economic security? We are clearly a threat to powerful corporate interests that seek to bulldoze clearances at the cost of millions of people and the environment. We have asked the home ministry to share the report with us. Had they done that before they would not have come to this conclusion."
Greenpeace communications director Bharti Sinha termed the IB report "unfortunate and ridiculous".
"IB is a very respectable organisation. But in this particular matter, we think that they have drawn a wrong conclusion, and we disagree with it. We don't know about the instances and evidences on which their conclusion is based, but we are ready to engage with the government on this matter," said Sinha.