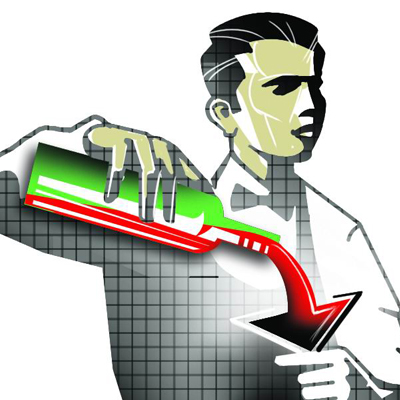 Focusing on infrastructure growth and welfare schemes, Odisha government today presented a Rs 80,139.58 crore budget for 2014-15 with plans to raise taxes on liquor, petrol and diesel to augment revenues.
"The total expenditure proposed in the budget estimates for 2014-15 including debt repayment is Rs 80,139.58 crore," Finance Minister Pradip Kuamar Amat said in his maiden budget speech in the Assembly.
Non-plan expenditure was estimated at Rs 40,711.01 crore with an increase of 7.30% over the budget estimates of 2013-14, Amat said. Similarly, the state plan, central plan and centrally sponsored plan expenditure were estimated at Rs 38,810 crore, Rs 609.42 crore and Rs 9.15 crore respectively, totalling Rs 39,428.57 crore, showing an increase of about Rs 72% over the revised outlay for last year, he said.
Stating that the budgeted expenditure would be financed through estimated revenue receipts of Rs 67,146.96 crore, recovery of loans and advances of Rs 240.29 crore and borrowing and other receipts of Rs 12,752.32 crore, Amat said revenue surplus would be of the order of Rs 4265.55 crore. To boost farm sector, the finance minister presented a separate budget for agriculture raising the outlay for the department under plan and non-plan areas from Rs 1823.77 crore in 2013-14 to Rs 2727.99 crore in 2014-15, registering an increase of about 50%.
The non-plan outlay for agriculture was enhanced from Rs 426.53 crore in 2013-14 to Rs 493.07 crore this year, he said adding the plan outlay which was Rs 1397.24 crore in 2013-14 has been enhanced to Rs 2234.92 crore keeping in view the government's commitment to farmers. The government sought to intensify and consolidate the efforts already made in areas of irrigation, provision of quality seed and planting material, insurance and extension activities in the agriculture sector to accelerate the pace of socio-economic development of farmers, Amat said.
Listing steps to augment revenues, the finance minister said the budget proposed to raise the tax rate on liquor from 20% to 25% and also to restore tax rate on petrol and diesel from 18% to 20%. Stating that hike of tax on foreign liquor is based on the premise of ability to pay, he said the empowered committee of state finance ministers have recommended minimum tax rate of 20% on petrol and diesel.