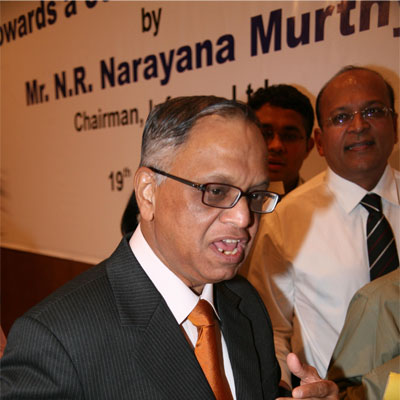 Infosys Technologies executive chairman NR Narayana Murthy will lay the foundation stone of the company's much-awaited Indore campus on February 24.
UAD minister Kailash Vijayvargiya while talking to mediapersons in Ujjaini announced that Murthy would be visiting Indore on February 24 to lay the foundation stone for Infosys City campus.
Vijayvargiya was addressing mediapersons after participating in the state cabinet meeting held at Narmada-Kshipra linking spot at Ujjaini on Tuesday.
Infosys had received a notification for its proposed Special Economic Zone (SEZ) in Super Corridor area of Indore recently.
The company will be developing the SEZ in a 130-acre area and the campus is likely to be operational within 4-5 years.
As part of the first phase of the project, the company would construct 54-metre high Software Technology Park (STP), having three blocks of nine floors each. Besides, the company would also construct a utility complex and parking facility, an official source said.
After the first phase, Infosys is expected to offer direct employment to 3,000 persons.
Another IT giant TCS (Tata Consultancy Services) had laid the foundation of its campus in Indore on August 10 last year. The project has five phases of which phase I has already begun. In the first phase, TCS will develop its premises with an investment of Rs550 crore within two years.
The plan
Infosys had received a notification for its proposed SEZ in Super Corridor area of Indore recently. The company will be developing the SEZ in a 130-acre area and the campus is likely to be operational within 4-5 years. As part of the first phase of the project, the company would construct 54-metre high Software Technology Park having three blocks of nine floors each