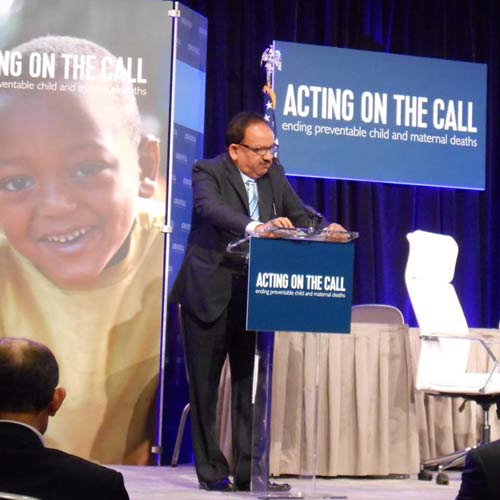 Yet another controversial statement made by Union Minister for Health Dr Harsh Vardhan has now surfaced, where he suggests that the "so-called sex education" be banned, and recommends that instead Yoga be made compulsory.
In a document titled 'Educational Vision for Delhi', available on his website, Dr Vardhan promises that on coming to power, BJP will ban sex education, among other curriculum changes. And in the same line, it further reads, that Yoga will be made compulsory.
Although, in a recent comment to ANI, Dr Harsh Vardhan denied this. "I am medical professional who embraced rationalism and whole-heartedly support pedagogy that is scientific and culturally acceptable," he said.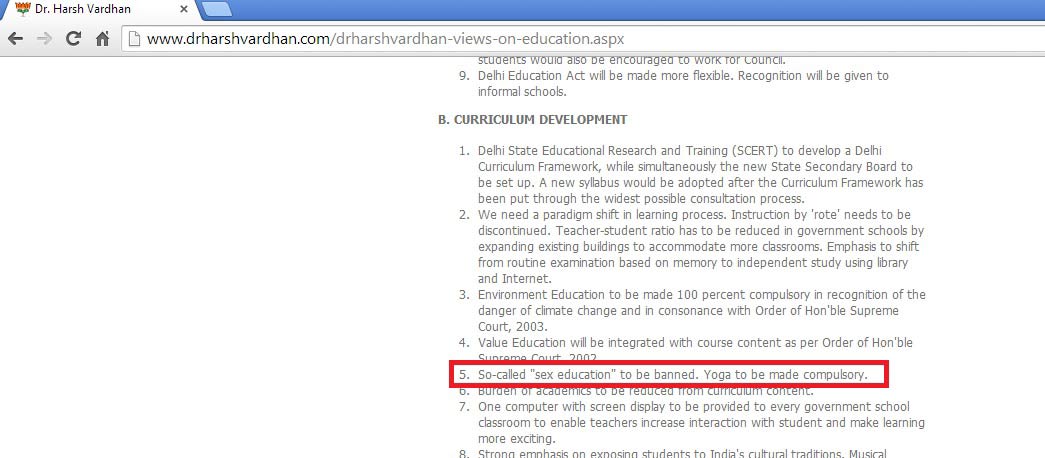 Earlier this week, Dr Vardhan had come under severe criticism for his comments on AIDS prevention, emphasising that there was need to promote fidelity and morality rather than the use of condoms.
In an interview to The New York Times, he had said, "The thrust of the AIDS campaign should not only be on the use of condoms. This sends the wrong message that you can have any kind of illicit sexual relationship, but as long as you're using a condom, it's fine."
He also added that he would like to see a change in the way that the new government creates awareness of AIDS by "promoting the integrity of the sexual relationship between husband and wife, which is part of our culture."
His comments drew extensive outrage, criticism and shock from across sections, especially since they come from a qualified doctor.
He, however, responded accusing the media of misquoting him:
Disappointed over the way sections of the media have distorted my statements about safe sex in an interview to New York Times on June 24.

— Dr. Harsh Vardhan (@drharshvardhan) June 25, 2014
In a Facebook post, he alleged that his comments had been distorted by the media. He further reiterated his stand and emphasised on the 'Abstinence-Be Faithful-Condom' (ABC) policy. "Through misleading headlines an impression is sought to be created that I have misgivings about the efficacy of condoms or that I have a moral problem with condoms. This is apart from the fact because for the past two decades I have been stressing the need for safe sex using a combination of condoms and discipline which is in line with the Abstinence-Be Faithful-Condom (ABC) line of UNAIDS which has yielded great success in Uganda and now forms part of the anti-AIDS campaigns of several countries," he wrote.
And now with the focus back on statements that were presumably made during BJP's campaigns for the Lok Sabha elections, criticism against the Union Minister has only intensified.
Many have raised questions over his priorities as a heath minister:
According to WHO, Delhi ranks first in "City with Worst Air Pollution" & our health minister #HarshVardhan wants to ban #SexEd in schools.

— Jesal Jariwala (@Jesal03) June 27, 2014
Others did not appreciate Dr Vardhan's moral policing:
Irrespective of his clarifications, exasperating to see #HarshVardhan stand on 'morality', 'Indian values'. Values are imbibed, not promoted

— Malvika Mudgal (@MollyMudgal) June 25, 2014
In his post, Dr Vardhan defended his stand saying, "Any experienced NGO activist knows that condoms sometimes break while being used. That is why government campaigns in India, whether through the National Aids Control Organisation or the state governments, should focus on safe sex as a holistic concept which includes highlighting the role of fidelity to single partners."
In conclusion he wrote, "Condoms promise safe sex, but the safest sex is through faithfulness to one's partner. Prevention is always better than cure."
Read his full post here:
ALSO READ: Dr Harsh Vardhan, have you heard about 'Modi condoms'?