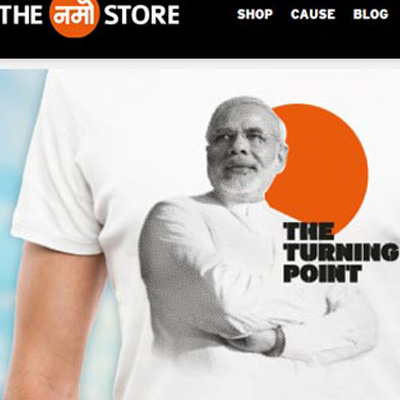 The first ever online merchandise portal based on Narendra Modi brand- The NaMo store was launched on December 24, 2013.
People can buy branded designer apparels and variety of merchandise under the brand name Namo Mantra. The products are available at affordable prices on the dedicated e-commerce platform.
The portal is a dedicated online store to offer products inspired by the lifestyle and values of the Prime Ministerial candidate of Bhartiya Janta Party, Narendra Modi.
The NaMo store offers a wide range of products at the namostore under three categories viz. Namo Mantra, Namo Lekh and Namo Tech which include T-shirts, Koti, stationery like pen drives, planners etc. The merchandise can be easily bought through debit/credit cards and net banking.
The store is collaborative effort of a group of volunteers. The store offers products crafted around the vision of 'India First', a phrase coined by Narendra Modi.
Talking about the launch, a core team member informed, 'The NaMo Store offers people an opportunity to embrace positive values which Narendra Modi stands. The products are designed by professional designers keeping in consideration the current trend & international standards.'
He further added, "The NaMo Store will also be launching their own retail stores across different cities in India for wider reach in near future. The stores will be opening in major cities in India."
In a recent survey conducted by Associated Chambers of Commerce and Industry of India (ASSOCHAM) in 2013, India has more than 100 million Internet users, out of whom around half opt for online purchases. According to the survey, Delhi ranked first in online shopping, followed by Mumbai and Ahmedabad.
Click here to visit the NaMo store