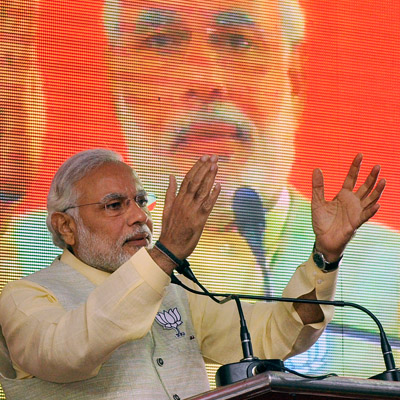 "I bow to the purity and culture of this land. At first, I thought that the BJP has sent me here to fight the elections. Before coming here, I thought I was going to Kashi, but after I reached here I felt that Maa Ganga has called me here like a loving mother calls out to her son," BJP prime ministerial candidate Narendra Modi said in Varanasi in a candid chat with the media before filing his nominations.
He further added that he would do all he can to maintain the purity of this sacred land of the Ganga. Making Varanasi the spiritual capital of the country and the Ganga Purification Project are some of his plans for the holy city. He told the media that even his native place, Vadnagar in Gujarat, is a place of worshipping lord Shiva, and Varanasi is Shiva's land.
Quoting the Russian Philospher Yenseng, Modi said that in Vadnagar education is given to the Buddhist monks and Varanasi is the land where Gautam Buddha attained enlightenment. He added that he has always been a follower of Buddha.
Seeing the support of the people in Modi's roadshow, ahead of his nomination, chills have run down the spines of his opponents. After Modi claiming to be connected to Varanasi, talk has sprung up in the Lok Sabha. It will be clear on May 16, who will be the man of this land.