Election dates for Jammu and Kashmir: 10 April (Phase 3), 17 April (Phase 5), 24 April (Phase 6), 30 April (Phase 7), 07 May (Phase 8)
*Jammu and Kashmir will go for first phase of Lok Sabha elections on Thursday and the state has no female representation in the polls.
*The state has a total number of 19 candidates contesting and does not include a single female candidate.
*Jammu and Kashmir has a total of 6 constituencies and the polling is divided into five phases. A total number of 69,33,118 voters will participate in the Lok sabha elections from the state.
*A total of 4548 ballot units (EVM) and around 2274 control units will be made available amidst heavy security across the state for voting.
*Meanwhile, Election commission has set a poll expenditure limit of Rs. 70 lakhs per candidate.
*Around 30.74% voters are in the age group of 16-30 and a total of 47.24% voters are women.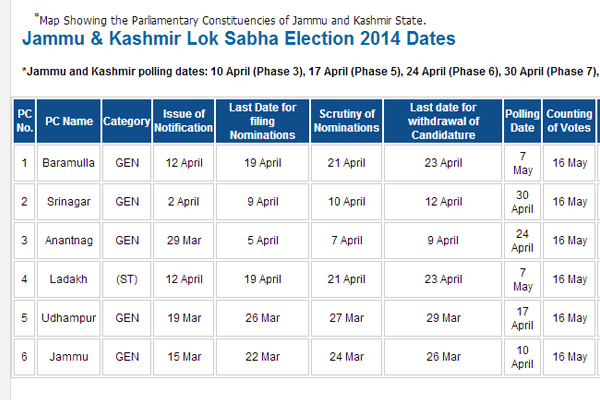 Also read: Narendra Modi demands debate on Article 370, here's all you need to know
Below is a list of partywise break-down of candidates:
BJP: 1
BSP: 1
CPI: 1
NPP: 1
PDP: 1
Independent: 10
Local political parties: 4
Meanwhile, factors that will come into play during the elections:
Omar Abdullah says article 370 cannot be abolished
The ruling alliance partners in Jammu and Kashmir - the National Conference and Congress - along with Opposition PDP on Monday criticised the BJP for demanding abolishment of Article 370 in its manifesto and said the act was 'non-negotiable' and could not be abrogated.
"The National Conference will never allow Article 370, which gives special status to J&K, to be abolished," NC chief Farooq Abdullah told reporters after filing his nomination papers for Srinagar-Budgam parliamentary seat as per reports.
He was reacting to BJP's manifesto that sought the abrogation of Article 370.
Also read: Ten things you need to know about the BJP's election manifesto
During his rally in Jammu last year, BJP's prime ministerial candidate Narendra Modi had said that his party would discuss the pros and cons of Article 370, Farooq said.
Calling the BJP leaders liars, he said they never wanted a discussion and their only motive was to abolish Article 370, which he said he wouldn't allow.
Kashmiri Pandit outfits to support BJP
Major Kashmiri Pandit outfits such as All India Kashmiri Samaj and Jammu and Kashmir Vichar Manch (JKVM) have given a call to the community members to support BJP in the Lok Sabha polls, saying it was the only political party which has been sympathetic towards its grievances.
The JKVM said BJP was the only party that has included issue of displaced Kashmiri Pandits in its manifesto reiterating commitment to create an atmosphere so that they can return to Kashmir with "dignity and honour".
These outfits also criticised UPA government saying it did nothing to address the problems being faced by around five lakh Kashmiri Pandits who were displaced from the valley.
Met with Kashmiri Pandits from South Kashmir in Jammu yesterday to request their support #2014 1/n

— Omar Abdullah (@abdullah_omar) April 7, 2014