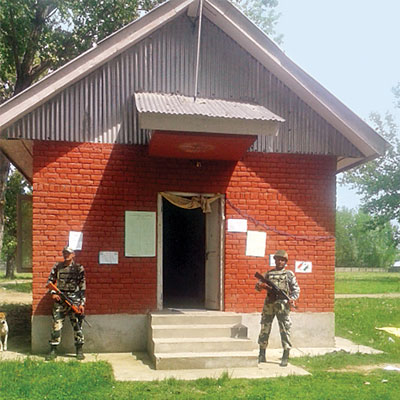 A huge wall graffiti screaming "Afzalabad" welcomes visitors to this sleepy village. A few meters ahead, the wall of a forest office is painted green with the words: "Go India Go". Walk past the adjacent 'green tunnel,' the graffiti on the village army camp proudly flashes 'Sare jahan se achcha Hindustan hamara.' The paradox sums up the mood in Afzal Guru's ancestral village in Kashmir's apple bowl on polling day.
A huge security cover, desolate roads and a deserted booth is the welcome that one gets at this scenic village on the banks of the river Jhelum. The polling staff inside the 89-Ghat Seer polling booth is killing time by having an extended lunch. Not a single voter of the 468 registered electors has come to cast his ballot here until 2.30pm. Election officials and media personnel are the only people to have arrived at the booth thus far, according to presiding officer Mohammad Ashraf.
"No one has turned up to cast his ballot since morning. There are no polling agents either," says Ashraf. "We are not tense, but our family back home tends to worry. We have reassured them that we are safe."
Emotions run high in Guru's village a year after he was secretly executed in a prison. The people are and their wounds are still festering.
"Why should we vote? They killed Afzal for no fault," says Abdul Hamid Marazi, a farm labourer. "He was jailed for 12 years before being hanged secretly in the jail. Voting would tantamount to betrayal."
Another villager explains why they want to cut-off ties with the government. "The height of the brutality is that they (government) did not even return the mortal remains of Afzal. This is sheer injustice and voting means collaborating with the tyrants," says Abdul Khaliq.
About 200 meters away, the village women encircle Guru's widow, Tabassum Guru, close to the bank of the river. As media personnel fill in, she politely greets them, but is in a drastically different mood just minutes later.
"Afzal sacrificed his life for the nation. We feel sad when his name has been used by pro-India politicians (during electioneering)," says Tabassum. "To vote would be to betray Afzal Guru and other martyrs. How will the voters answer the families of the 120 people martyred during the 2010 uprising?"
About 5km down the road, Sopore township has a similar story to tell. More than 37 polling booths have been clustered in three educational institutes over security reasons. Most of these polling booths did not see any voters. For instance, not a single one of the 534 electors cast his vote in 111 Bagaat-D polling booth in Government Degree College Sopore until 3.30pm.
It appeared that only families and relatives of politicians turned out to vote in Sopore on Wednesday; Sopore assembly constituency, part of the larger Baramulla Parliamentary constituency, witnessed the lowest turnout — 1.02 per cent. The town had witnessed a militant attack that left three CRPF personnel injured on Tuesday evening.
Overall, Baramulla Parliamentary constituency recorded 39.6 per cent polling, much of which was in Tanghdhar to Gurez to Uri — towns along the Line of Control. Happy about the low turnout in Baramulla, separatists were quick to congratulate the people for having boycotted the election in north Kashmir.
Ladakh parliamentary constituency, which too went to polls on Wednesday, recorded a turnout of 65 per cent.