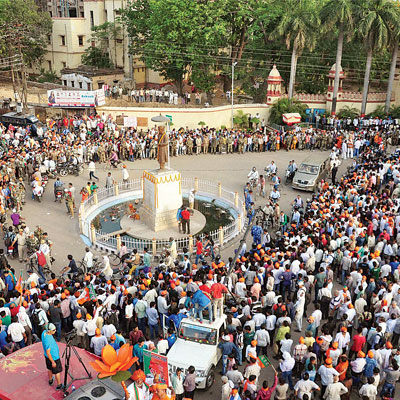 Minutes after Narendra Modi said his silence was more powerful than his words, he flew into the holy city-turned-political warzone on Thursday, launched a tirade against the Election Commission and sounded the right notes to placate Varanasi's multitude of residents, including its Muslim weavers.
A day after a row erupted after the EC denied him permission for a rally in the city's Beniyabagh maidan, a combative Modi lashed out at the poll panel and at his opponents, at a rally in Jagatpur in Varanasi's Rohaniya assembly constituency.
"How far is Varanasi from here? 12 kms? If there is no threat to me here, how will there be threat to me in Varanasi? There was no threat to me when I went to a Maoist zone, to Jammu and Kashmir," said Modi. "I don't know under whose pressure you (EC) are working. If Modi does give a speech, will the world sink? My silence has more power than my words."
The poll panel had cited security reasons and denied permission to the BJP for a rally at Beniyabagh, although permission was granted for a rally in Rohaniya and for a Ganga pujan.
The BJP began the day with protests at the historic Lanka gate in front of the Banaras Hindu University. Modi landed at the BHU helipad and as his cavalcade inched through, frenzied crowds spilled onto the streets all along the four-km route to the party office to catch a glimpse of Modi, riding in a white safari. Modi ended the day with a road show and an interaction with party workers.
But it was during his Rohaniya rally that Modi reached out to Varanasi. "They (EC) also denied me permission to go to ma Ganga," said Modi in a 45-minute speech, every statement of which seemed to have been clearly etched in his mind for this precise occasion. It was interspersed with references to the legendary 'shehnai' player Bismillah Khan, Kabir and Rahim, the weavers and carpet makers of Varanasi (majority of them Muslims) and the Muslim kite-makers of Gujarat. Col Nizamuddin, aged over 103, of the Azad Hind Fauj, prominently seated on the stage, completed the picture. Before Modi started speaking, a four-minute film on Gujarat's Sabarmati river was shown, and Modi promised that he would transform the Ganga in a similar manner.
"How can the Ganga, revered by 125 crore people, be polluted? Bismillah Khan never left Varanasi as he said he could never leave the Ganga," said Modi, unveiling his blue print of how Varanasi can be developed within five years and placed on the international tourist map and promoted as a centre for learning and industry.
"The silk saree makers of Surat are known the world over. But they got the art from the weavers of Varanasi who came there. Why can't the weavers of industry develop their business up to international standards?" he asked.
The cheers and applause got louder each time he voiced a new idea for Varanasi's development. "Apart from development, I have no agenda," he said. Renouncing caste politics, Modi said he believed in a united India.
That he had managed to strike the right notes was apparent. Several people who attended the rally returned with "hope," saying Modi would bring the "much-needed change" in their constituency. He also seemed to have won sympathy for "denial" of permission for the rally and Ganga pujan in Varanasi. Modi, later, tweeted "My profound apologies to Ganga Maa for not being able to perform aarti today. Wish these people know that a mother's love is above politics."