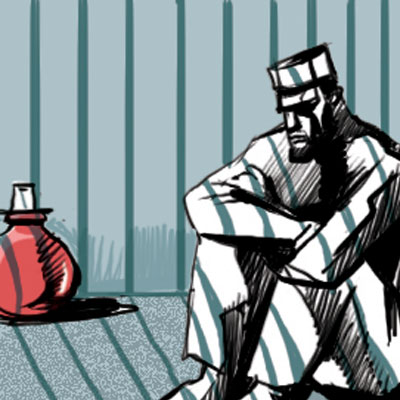 At least 100 lifers are languishing in Tihar jail even after completing their sentence, thanks to political upheavals in the capital since last year's assembly elections.
The sentence review board (SRB), headed by Delhi's chief minister, decides on the pleas of prisoners who have completed 14 years in jail and maintained a good conduct throughout the entire period. The SRB hasn't held a single meeting in the past six months.
But why?
First, it was the assembly elections in December, then Arvind Kejriwal resigned in February and then president's rule was imposed. And now the moral code of conduct is in place. So all activities of the SRB are suspended. Normally, the board meets every quarter to decide on releasing prisoners.
A Tihar jail source said lifers who have completed their sentence have been asking why the SRB meeting hasn't happened. "We have told them that a meeting is unlikely to be held anytime soon since there is no government. The CM heads the SRB," he said. "We have written to Lieutenant General Najeeb Jung asking him to look into the matter."
An SRB meeting was otherwise scheduled in February. Never in the past has the CM's chair been empty for such a long time, the source said.
"The prisoners have submitted a joint letter to jail authorities, requesting an SRB meeting. But nothing can be done till Jung intervenes."
The board goes through profiles of prisoners who apply for pardon/release. It considers the conduct of a prisoner in the past 14 years. After a thorough discussion, the board sends the application of a selected prisoner to Jung who takes the final call on the matter.
Of the 14,000 prisoners in Tihar jail, there are 1,273 male lifers and 59 female lifers. And 100 have completed 14 years in prison. They are entitled to seek pardon/release on grounds of good conduct. In the next four years, this number will go up to 331.
A jail official said most of the lifers are murder convicts.