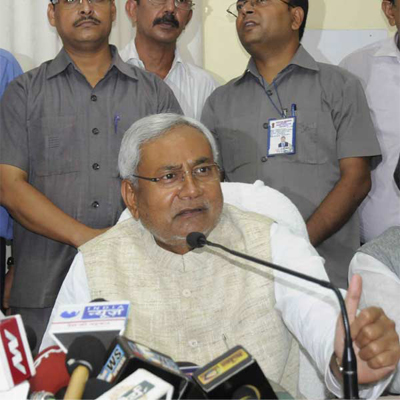 In an apparent dig at Narendra Modi, Bihar Chief Minister Nitish Kumar Nitish Kumar on Thursday said the efforts for a federal front of anti-Congress and anti-BJP parties to provide an alternative to the country has increased the pulse of 'gossipers'.
"This (efforts for a federal front) has increased pulse of 'hawabazzs' (gossipers)," Kumar said, in an apparent dig at the BJP Prime Ministerial candidate who had yesterday said that a third front should see which way the wind was blowing and that the BJP would form the government after the Lok Sabha elections. Without naming Narendra Modi, Kumar claimed "One senior leader in his speech at Kolkata yesterday appeared totally rattled by formation of the new front.
Claiming that the new grouping would provide a true alternative to Congress led UPA, he said "the first step toward forming a federal front has been taken successfully." Kumar was referring to meeting of 11 non-Congress and non-BJP parties in Delhi to form a separate block in Parliament with him behind the exercise. Stating that hot air would not work, Kumar said in the presence of JD(U) President Sharad Yadav, "UPA and NDA will crumble like a pack of cards."
Asserting that 'Delhi only worships one who has strength', Kumar urged people to strengthen JD(U) so that nobody could dare to ignore the demand for special status for the state. Yadav, who had attended yesterday's meeting of non-BJP and non-Congress parties in the national capital, expressed confidence that the federal front comprising of Left parties, SP, AIADMK, JDS, JD(U), BJD, Jharkhand Vikas Manch and AGP among others would form government at the Centre after the Lok Sabha elections.