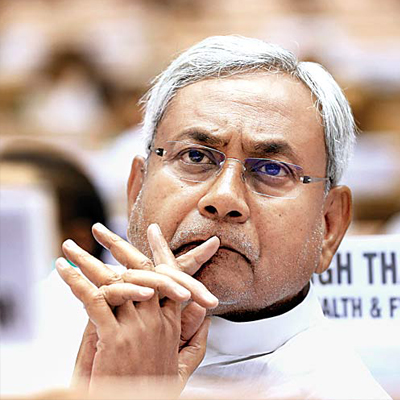 Making a strong pitch for the Congress to get the Leader of the Opposition (LOP) post despite falling short of the requisite numbers, Janata Dal (United) (JD(U)) leader Nitish Kumar on Saturday said this was needed as a strong opposition was necessary for the smooth functioning of democracy.
"As a ruling party they (BJP) shall have done this suo motu but they do not not have large heart to show such kind gesture," the former Bihar Chief Minister Nitish Kumar told reporters here.
Kumar's support for the Congress, the second largest party in the Lok Sabha with 44 seats, in getting the LOP post despite falling short of the requisite 10 per cent, comes in the wake of JD(U) General Secretary KC Tyagi announcing the party's support to the Congress for the post yesterday.
The matter was yet to be decided by the Speaker.
Kumar said the role of the LOP was crucial in making appointments in important constitutional posts like Central Vigilance Commissioner, head of the National Human Rights Commission and the Lokpal.
Kumar gave example of his National Democratic Alliance (NDA) government in Bihar which had offered LOP post to Rashtriya Janata Dal (RJD) after 2010 Assembly election despite the fact that Lalu Prasad's party did not have the requisite 10 per cent seats.
''Similar gesture was shown by us in the state Legislative Council also'', he said to drive home his point.
Kumar's support for Congress signals growing proximity between the two parties. Congress has extended written support to the new Jitan Ram Manjhi government in Bihar.
Amid speculation that a grouping of regional parties like All India Anna Dravida Munnetra Kazhagam (AIADMK), Bihu Janata Dal (BJD) and Trinamool Congress (TMC) could come forward to claim the post in Lok Sabha, a JD(U) functionary had on Friday said that since the Lok Sabha will primarily be dealing with national issues, it makes more sense that the post should go to a national party.