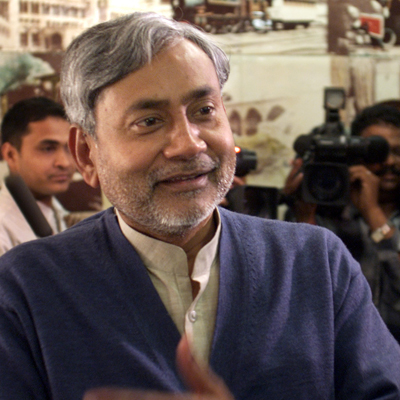 Nitish Kumar who resigned as Bihar's chief minister will choose his replacement and will still stay in charge, Janata Dal United officials have said. The party's president said that they will stake claim to form a government in the state.
Kumar resigned as the state's chief minister on Saturday in the wake of the results of the general elections which just concluded. He took full responsibility for the party's dismal performance in the elections.
JD(U) leader VN Singh said "There is no trouble to our government or majority, Nitish ji resigned taking moral responsibility for Lok Sabha loss"
"There has been no discussion yet on a possible alliance with RJD" he added.
JD(U) legislators on Sunday said that they won't take anyone else other than Kumar as their leader and urged him to take his resignation back. Kumar said he needed one more day to think it through.
Nitish Kumar Monday refused to withdraw his resignation, following which the JD-U legislature party authorised him to elect a new leader. He quit as chief minister after the party's abysmal performance in the Lok Sabha polls.
"With Nitish Kumar refusing to withdraw his resignation, the JD-U legislature party has unanimously authorised him to elect a new leader to head the government," JD-U state president Vashsisht Narain Singh said at a press conference in Patna.
Singh said a delegation of party leaders, including president Sharad Yadav and Nitish Kumar, will meet Governor DY Patil Monday evening to stake its claim to form the government. He said the party has a clear majority in the state assembly.
He also said Nitish Kumar will lead the party in the next state assembly polls due in 2015. A senior party leader close to Nitish Kumar told IANS here that he is adamant and does not want to change his stand.
"By resigning as chief minister, Nitish Kumar played a master stroke that not only reunited the party leaders and workers, but also led to widespread demands by all sections of people across Bihar that he should continue for the sake of development," he said.
JD-U spokesperson Neeraj Kumar said the party legislators had expressed full faith in Nitish Kumar and decided to re-elect him as their leader.
The party won only two of the state's 40 Lok Sabha seats -- as against 20 seats in 2009, when it was in alliance with the Bharatiya Janata Party. It parted ways with the BJP last year ending a 17-year-long alliance.