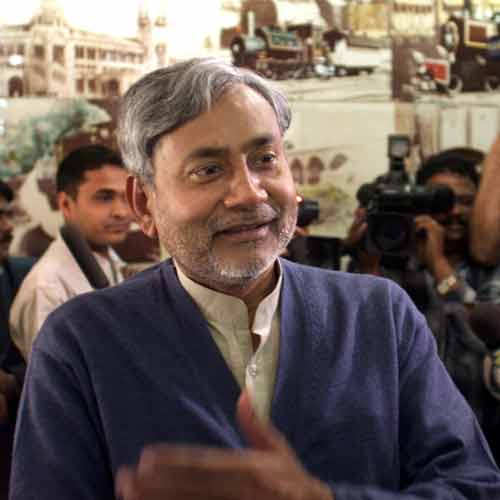 Chief Minister Nitish Kumar today said his demand for grant of special category status to Bihar is not "an alm from the Centre" but a right and he will not rest till the Centre grants it.
"Our special status demand is not an alm from the Centre, but our right....we will not sit at rest till our rightful demand is met," he told an impressive 'Sankalp Rally in Bihar's Purnia district.
Vowing to take his campaign for special status demand to its logical conclusion, Kumar said that his party - the JD(U) has proposed to hold 'Sankalp' rally in districts where he will continue to raise the demand for grant of special status to usher in development and prosperity.
The Chief Minister took to task the UPA government for not taking any decision on the Raghuram Rajan Panel report which had laid down criteria of backwardness and suggested additional fiscal devolution to the backward states on new parameters and regretted that the Union Finance Minister P Chidambaram has not responded to his letter.
Putting the ball in the court of the Central government vis-a-vis special status demand for Bihar, Kumar said the Centre can decide within four to six weeks about according special status to Bihar and providing additional financial devolution, but ten weeks have elapsed since the panel submitted its report.
Kumar spelt out various benefits accruing to the state if the special status was accorded to it and said that the people can not wait for 25 years for their state to join the pool of developed states at the current pace of development.
Our people will not have to suffer insult in developed states where they go for work if employment opportunities are created in their own home state, he said referring to attacks on the North Indian people in Maharashtra and other states in distant past.
The Chief Minister defended his decision to part ways with the BJP to protest elevation of his arch rival and Gujarat counterpart Narendra Modi, who he said, "has praised those people who had heaped insult on the Biharis in Maharashtra."
"It is regrettable that a person who praises those people spewing venom on the Biharis in Maharashtra has been made a state guest in Bihar," he said referring to red carpet welcome given to Modi by the state unit BJP during his visits to the state twice two months ago.
Kumar tore into the BJP's claim of a wind of change blowing in its favour in the run up to the general elections and said that the wind was not a natural one, but that of a blower about which he has had no doubt.
Slamming the BJP for pursuing divisive politics for which he had parted ways with the erstwhile ally six months ago, the Chief Minister said that Bihar has been an abode of peace, tranquility and communal harmony and promised that he will not allow anybody to vitiate peaceful life in the state.
Kumar also emphasised on development of Koshi region and said that a mega-bridge constructed on the Koshi river was dedicated to the people yesterday, while a medical college will be set up in Purnia for which an in-principal decision has been taken.
Earlier, attending a function by the NGO 'Jeevika', he said that constitution of Self-Help Groups (SHGs) has helped empowerment of the women and generate self-sustaining employment opportunities for them throughout Bihar since the project was launched in 2006.
In view of its effective and useful function, the SHGs under Jeevika will be set up in all blocks over the next five years to take the total number of such units to ten lakhs in the state, he said, adding that the state government has taken measures like facilitating provision of loan to the SHGs at seven per cent interest from banks of which three percent will be given by the state government from its own coffer.
It has also been decided for skill development of one crore people of which the SHGs will provide skill development to 15 lakh of them, Kumar said.
Besides empowerment and employment, education was another medium by which the women could play a decisive role in the society and help reduce fertility rate, the Chief Minister said and proposed to set up higher secondary school in each gram panchayat to provide education to the students upto class XII.
On this occasion, the Chief Minister distributed Rs 12.37 crore loan to the 2475 SHGs.