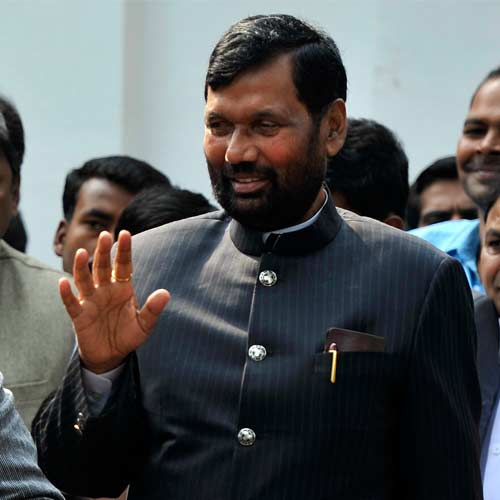 Lok Janshakti Party (LJP) chief Ram Vilas Paswan after meandering for over a decade, and almost losing political significance, is yet again back with a bang in the political theatre. After recording a thumping success as an NDA partner, Paswan is upbeat about his future responsibilities and is ready to take on opponents. In an interview with dna's Ashutosh Kumar, Paswan says Nitish Kumar's resignation is simply a drama and the future is dark for both RJD and JD(U). Excerpts:
How do you react to the mandate that NDA has got?
I never had any doubt that the NDA will get massive mandate like this one. Lalu Yadav had been playing the same Muslim-Yadav card. You cannot run a party by taking forward only one caste or one religion. We had full expectations.
Why, according to you has the identity politics taken a backseat in these elections?
Secularism has become a fashion these days. How do you define secularism? Are those people who voted for Narendra Modi communal? People who try to divide communities are doing communal politics. And people like Mulayam Singh Yadav, Mayawati and Congress have already seen the consequence of this kind of politics in Uttar Pradesh.
How do you see Bihar politics shaping up? Nitish Kumar has resigned?
It is simply a nautanki (drama). He had no option other than to resign as he was anyway running a minority government. And we were expecting a split in the JD(U) in the next two to three months. Nitish is trying to become a martyr. He is not going to get any sympathy with this act.
Did severing alliance with the BJP boomerang on Nitish?
People were already disillusioned with Nitish Kumar. When Maharajganj went to polls, JD(U) was part of the alliance, but why did it lose? The point is that when you lose the faith of the people, there is no way out. Nobody takes either Nitish Kumar or Lalu Prasad seriously in Bihar. Lalu's daughter and wife have lost. RJD and JD(U) have a dark future.
But people voted with a national perspective, and dynamics are likely to change in the state assembly elections?
Whichever party is thinking in this manner is simply trying to console itself. The Lok Sabha election scenario will be replicated in the state polls.
But many people say they will vote for Nitish in state elections?
Then why did they not vote for him in the Lok Sabha elections. It does not work this way in politics. People do not think in this manner.
What are your expectations on ministerial berth allocation?
Our strategy is very simple. Gong by the promises that Narendra Modi and we all have made to the people of the country, it's going to be a throne of thorns. Our priority is to fulfil the expectations of the people. What ministry we get or don't get anything at all is a secondary matter.
But do you have a preference?
I have never lobbied for any ministry. No ministry is big or small.
BJP has got a clear mandate. What do think about the three core issues of the party?
If you look at the manifesto, they have clearly said that the Ram Mandir issue is in the Supreme Court and whatever the court decides, they will accept. Narendra Modi has stressed on development and the main issue is development. Has Narendra Modi uttered even a single word that reflects communal intentions?