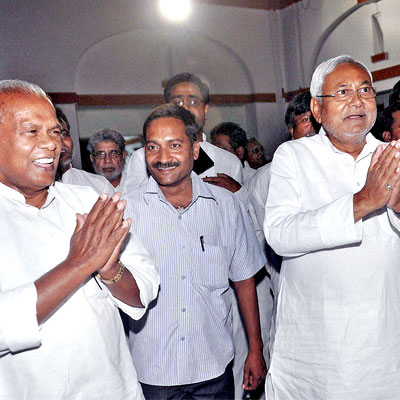 Ending the two-day long political drama in Bihar, Nitish Kumar on Monday name Jiten Ram Manjhi as the next chief minister.
Nitish Kumar along with Manjhi met the governor and submitted a list of 119 MLAs staking claim to form government.
The 68-year-old Manjhi, a Dalit leader, was SC & ST minister in the Nitish Kumar government.
He is legislator from the Makhdoompur assembly constituency. He also contested the Lok Sabha poll from Gaya constituency but lost.
Manjhi, a native of Mahkar village in Gaya district, will be the third Dalit to become chief minister after Bhola Paswan Shastri and Ram Sundar Das. He is from the Mushahar community and would be the 23rd chief minister of the state.
"We have staked claim before governor DY Patil to form the government under leadership of Jiten Ram Manjhi," outgoing chief minister Nitish Kumar told reporters outside Raj Bhawan.
He said, "We have handed over a list of support of 117 JD(U) MLAs, 2 Independents and 1 CPI member totalling 120 to the governor." Asked for the reason for choosing Manjhi as his successor, Kumar said "he is experienced and his contribution to the party is immense."
Manjhi's name, Nitish said, has the approval of JD(U) President Sharad Yadav as well state party chief Basistha Narayan Singh.
The effective strength of the House at present is 239.
JD(U) has 117 members, BJP 90, RJD 21, Congress 4 and others including Independents 1 CPI member 7.
Nitish had resigned on Saturday accepting the moral reponsibility as JD(U) managed to win only 2 seats in the state. In 2009, the party had won 20 seats. Also, 27 of party's candidates lost their deposit.
Earlier in the day, Kumar had said he would not reconsider his decision and withdraw his resignation. He wanted the Janata Dal (United) to elect a new leader. "I am not reconsidering my decision to withdraw my resignation My decision has not been taken in a wave of emotion; it was my moral responsibility to take this decision and I want to request the people to understand this," he said.
Party MLAs had on Sunday chose Nitish as their leader and insisted that he withdraw his resignation, but Nitish refused. He had sought a day's time to decide the matter.
— With Agency inputs