The BJP chief is under fire for allegedly equating IQs of Swami Vivekananda and Dawood Ibrahim.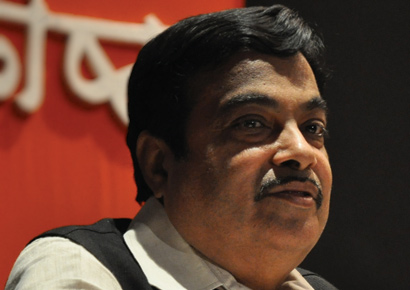 BJP president Nitin Gadkari walked into a verbal minefield and created a furore juxtaposing modern Swami Vivekananda and underworld don Dawood Ibrahim.
He made a general observation at an awards function in Bhopal that the intelligent quotient of Swami Vivekananda and Mumbai underworld don and the brain behind the 1993 serial blasts Dawood Ibrahim was perhaps the same, and that while Vivekananda used it for building the nation, spiritualism and brotherhood, Ibrahim excelled in the crime world. What Gadkari meant was that how two human beings used what was given to them, intelligence, in different ways. Vivekananda was creative and Ibrahim was destructive.
There was no scope for nuanced observations in the political sphere. And Gadkari reaped the unintended whirlwind. His official clarification issued by the BJP has almost gone unnoticed. The BJP official site said: "In a statement, Shri Gadkari said, 'I did not make any comparison between Swami Vivekananda and Dawood Ibrahim. What I said was that if one used one's intelligence properly then one could become a Saint like Swami Vivekananda. I have been grossly misquoted'."
Gadkari's bete noire and Congress leader Digvijay Singh said on Twitter: "In a function in Bhopal Gadkari said 'IQ of Swami Vivekanand and Dawood Ibrahim was same'. Any comment from (Narender) Modi and his fans?"
Newly-appointed minister of information and broadcasting Manish Tewari demanded an apology from the BJP for Gadkari's remarks and said it revealed the party's "culture and mentality". "How can anyone compare one of India's foremost thought leaders with a criminal or with somebody who has clearly dubious and notorious records," he asked.
Asking the BJP a counter question, senior Congress leader Jagdambika Pal said, "If somebody tomorrow compares Gadkari's IQ with Kasab what will BJP answer?"
Mumbai-based writer Shoba De tweeted saying that Gadkari quickly needs IQ. She tweeted, "Gadkari has lost it! Not weight.Brain. Someone loan him a little IQ. Make it fast!"
—With agency inputs