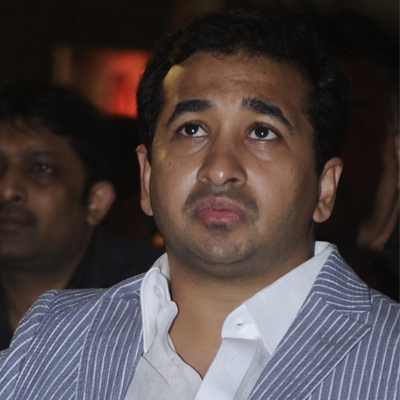 Nitesh Rane, the son of Congress leader Narayan Rane, tweeted on Friday reacting to Samajwadi Party leaders Mulayam Singh Yadav and Abu Azmi's comments about rape.
In his tweet, he stated that "SP leaders were open to rape and had given green signal for the same. Hence, people should get in touch with them."
His tweet attracted ire from twitter users who were aghast at the comment and gave swift responses to the Rane scion.
Below are some tweets:
Stupid politicians like Nitesh Rane think it's fun to rape women . another loser with sick mentality amongst us pic.twitter.com/HeC4Y2wbAG

— Angry Bombay Girl (@shadymumbai) April 11, 2014
He later deleted his tweet following public ire over his 'inapprpopriate' comment and provided a tweet explanation for his lapse in judgement.
Guys I was been sarcastic!Don't read too much between the lines..these sick Samajwadi leaders shud b spoken in the language they understand

— nitesh rane (@NiteshNRane) April 11, 2014
Exemplifying how politicians take advantage of opportunities to criticize rival parties, Nitesh Rane condemned the Samajwadi party leaders for their 'sexist' and 'derogatory'remarks.
It's so sick to know what such leaders of Samajwadi party think of women!! Wonder if they cud be even alive if there were no women around!!

— nitesh rane (@NiteshNRane) April 11, 2014
Also read: People outraged over Abu Azmi's comment on rape victims; express fury on Twitter
This is not the first time that Nitesh Rane has created controversy. Earlier, his tweets on Gujarati community too had faced flak.
His controversial tweet over Gujarati populace living in the metropolis had landed him in trouble with the Maharashtra legislative council asking the state government to initiate action against him.
Later, defending himself, Nitesh had told reporters, "they live and earn their livelihood in this city, but praise Modi and Gujarat's development model. Such people should leave Mumbai and move to Gujarat."
Veg skies,Veg hospitals,Veg housing societies..soon Veg Mumbai!Either Gujjus go back to Gujarat or they turn Mumbai into Gujarat..Red alert!

— nitesh rane (@NiteshNRane) July 22, 2013
Surprisingly white collar Guju community was nevr a target who cleverly kept mumbai's financial chords with them!Now Modi's Guj awaits them!

— nitesh rane (@NiteshNRane) July 1, 2013
Apparently Modi saved 15k gujjs in 2 days..can he also divert his plane towards mumbai n pick sum gujjus from here too!

— nitesh rane (@NiteshNRane) June 25, 2013
All Hoo Haa of gujjus on twitter!Itni teekhi laagi Meri baat..chalo Modi ko bulao aur jaga khaali karo humare Marathis ke liye mumbai mein

— nitesh rane (@NiteshNRane) June 24, 2013
Though Nitesh had defended his comments in an interview with a leading Mumbai-based publication, his tweets had drawn sharp reactions from Gujaratis. Here are some of the tweets that are doing the rounds on the micro-blogging site:
Mr. Nitesh rane u r d one discriminating Gujarati n marathi... N Narendra Modi is the best... U need not b a Gujarati or Marathi to be dbest

— Dimple Shah Danda (@DimpleShahDanda) August 2, 2013
Ppl who oppose Gujaratis or others who praize Narendra Modi and ask us to leave Mumbai should have guts to push us out # Nitesh Rane

— Amit Mehta (@am8mehta) August 2, 2013
Need to know from Nitesh Rane where should Marathi's South/north India's should go if we praise Modi? Do we have to leave Mumbai too?..

— ?? ??????? ???? ?? (@21centurie_kant) August 2, 2013
Nitesh Rane seems to have a confused ideology. 'Gujaratis' praising Namo can leave. Sounds like SS. And the anti Namo stand sounds Congi.

— Akanksha Patankar (@Mrs_Patankar) August 2, 2013
This Nitesh Rane is the New Raj Thackray asking gujjus to leave the city..

— Zeal Soni (@Rapatraapchick) August 2, 2013
Nitesh Rane proves yet again that dividing the people of this country is Step no. 1 for every politician.

— Sagar Nair (@yedda_anna) August 2, 2013
Nitesh Rane has joined in to become the next Digvijay Singh of comments and speeches.

— omkar sane (@omkars) August 2, 2013
Surprising nobody has objected/ criticized/ denounced in public the "Gujaratis Maharashtra Chhodo" call of Nitesh Rane yet...

— Ruchir Modi (@Ruchir78) August 2, 2013
Funny how Nitesh Rane has the balls to make such comments.Maybe he has forgotten that the position he has is a free gift from his dad.

— Nidhi Vora (@NidhiVora93) August 2, 2013
My biggest issue is that politicians like #NiteshRane have time to do this, but no time to actually #makeadifference - it is all downhill

— Karishma S. Shah (@UtopiaSeeker1) August 2, 2013
On July 31, the Congress leader had commented on author Shobhaa De's demand for Mumbai as a separate state.
Rather than twitter, Shoba De shud say the same thing on the streets of Mumbai openly after which she won't be left with any 'shoba' forever

— nitesh rane (@NiteshNRane) July 31, 2013
The tweet had drawn sharp reactions from all quarters for being sexist. However, Nitesh remained defiant and refused to apologise for his comments. In response to calls for apology to De, he tweeted
English channels should ask Shobha De to apologise rather than askin me before it gets too late !!

— nitesh rane (@NiteshNRane) August 1, 2013
Other cases:
Nitesh Rane, known for his controversial comments, had been held by the Azad Maidan police for vandalizing a toll plaza in Northern Goa. Sources say that Rane and his supporters were stopped at the plaza and were asked to pay tax, which offended them.
In the year 2009 in the month of December, he was held by the Mumbai police for leading a violent mob outside the Brihanmumbai Municipal Corporation (BMC) protesting against water cuts in the city.