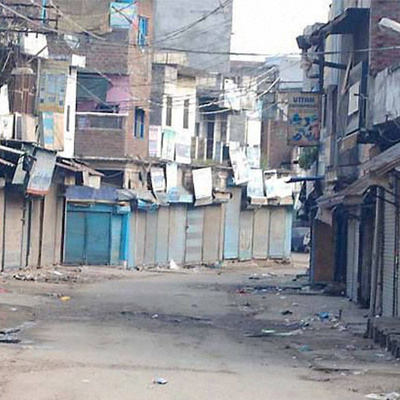 Night curfew has been imposed in the trouble-torn areas of Uriamghat in Golaghat district along Assam-Nagaland border today following the killing of a youth and arson by suspected miscreants from the neighbouring state. Night curfew from 6 PM to 6 AM has been clamped by the Golaghat district administration, a spokesman of the Directorate of information and public relations, Government of Assam said.
No fresh incident was reported today in the area, which witnessed arson and burning down of at least 100 houses by miscreants from Nagaland which forced nearly 12000 to flee from their homes and take shelter in relief camps set up by the administration.
Commissioner and Secretary (Home and Political) G D Tripathi, Additional Director General of Police (Law and Order and in-charge border) A P Rout and DIG (Central Range) P C Saloi have rushed to Uriamghat and were overseeing the security measures in the affected area, the spokesman said.
Parliamentary Secretary (Home and Political) Etuwa Munda is also camping there to monitor the situation, he added.
As per government norm Rs five lakh would be paid as ex-gratia grant to the next of kin of the dead youth, while Rs 50,000 each would be given to those whose houses were torched, the spokesman said.
Trouble began during a protest rally on Tuesday when an agitated mob gathered in front of 155 CRPF battalion camp at Chetigaon village in Uriamghat to protest against the abduction of two boys by suspected miscreants from Nagaland.
Unable to control the situation, CRPF personnel resorted to lathicharge to disperse the mob when miscreants from across the border opened fire at the protestors killing the 25-year-old youth on the spot and injured two others.