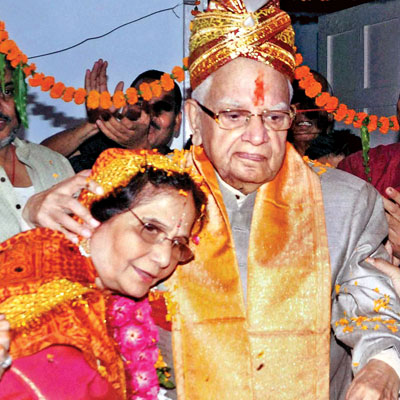 Their romance blossomed at a particularly difficult time for the Congress when the party suffered a humiliating loss in Uttar Pradesh, and across India, after the Emergency in the 1977 general elections. And culminated in holy matrimony again when the Congress is set to face one of its worst electoral defeats in the current Lok Sabha elections.
At the ripe old age of 89, veteran Congress leader ND Tiwari has finally married Ujjwala Sharma (69), mother of Rohit Shekhar, who Tiwari accepted as his biological son after a bitter paternity suit in March early this year.
The marriage took place at Tiwari's Mall Avenue residence in Lucknow on Wednesday.
The Congress veteran had been ardently pursuing Ujjwala, daughter of eminent statesman Professor Sher Singh, for over a decade but could never do so in full force since he was a busy party worker back in the 60s. "It was only after the Emergency, when Congress was routed out of UP that he had all the time to pursue me with renewed vigour," Ujjwala had said in earlier interview to dna. "He started frequenting my house in late '77 and our friendship grew into an intimate relationship by '79."
Their relationship had soured when Tiwari refused to accept Rohit as his son but all is forgotten now as Tiwari and Ujjwala come together in matrimonial bliss. "The marriage was his idea since he wanted to give me the status of a wife. We had no time to prepare since he insisted that we get married soon on the night of Buddha Poornima," she says.
Tiwari felt the auspicious occasion of Buddha's birthday was apt to finally marry Ujjwala and the marriage rituals took place between 7 and 10 pm. The marriage ceremony was done in keeping with vedic and Kumaoni rituals.
"I had not time to prepare, it was like preparing for a birthday party," says the newly-wedded bride. Her son, Rohit, too, is happy to finally see his parents unite as husband and wife. "Though, in my head, they were always married," he says. Ujjwala, too, feels that marriage is a formality since the two had a long live-in relationship. "But I do feel more stable and secure. I have forgotten all the bitterness of the past," she says.
Tiwari has not been keeping well and Ujjwala says she would like to stay with him at his Lucknow residence and take care of him. "One needs the support and care of family at this age," she says. While most newly-married couples look forward to spending some alone time at exotic destinations, Tiwari and Ujjwala will be spending their honeymoon period watching the election results. "We will be spending time watching and analysing the Lok Sabha results," she says.
However, the marriage is under a cloud as Ujjwala is already married and it was not clear whether she had got a divorce yet.
The former UP and Uttarakhand Chief Minister cleverly described the wedding as "Gandharva vivaah", a sort of arrangement described in Hindu mythology which is not exactly a marriage. Tiwari's first wife had passed away several years ago.
Faced with too many questions on the tricky topic, Tiwari diverted the issue to politics and said Narendra Modi was like his younger brother. "I will definitely congratulate him if he becomes PM," he told reporters on Thursday. "Common courtesy is above party politics," he added.
— With inputs from Deepak Gidwani