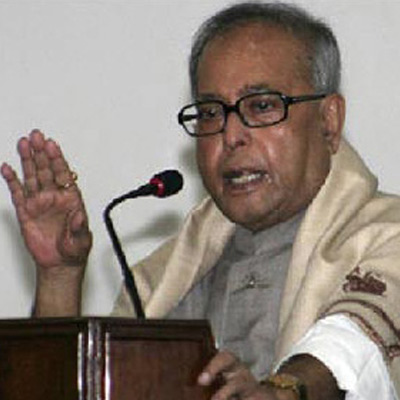 President Pranab Mukherjee on Thursday stressed the need for improving higher education to make the country a centre of global higher education. "I feel very sad when I find that out of top 200 universities, not a single Indian institute finds its place," he said.
The country has over 600 universities, 30,000 degree giving colleges and 16 IITs among others and none of them are of world standard, he rued. "We must improve our educational system which must not only provide quality education but ensure that India becomes centre of global higher education," the President said.
Citing the glory of ancient Nalanda and Takshila universities, he said institutions need to make efforts to find their right place in the world's top universities. "It is not very difficult to get our past glory if we make efforts," he said inaugurating the 150th birth anniversary celebrations of Acharya Satis Chandra Mukherjee at the National Council of Education.
He said improvement in education system can be done by creating a team of inspiring teachers, by establishing close linkages with global community though information technology and national network of technology. "What needs to be done is to take pro-active measures (in this regard)," he said.
A pioneer in the cause of national education, Satis Chandra was born on June 5, 1865 at Bandipur village in Hoogly district of West Bengal. The greatest achievement of Satis Chandra in the field of national education was the setting up of the National Council of Education, Bengal, in 1906, Mukherjee said. The President also unveiled a portrait of Satis Chandra.
West Bengal Governor MK Narayanan released the second edition of 'The Dawn'--an educational magazine-- and presented its first copy to Mukherjee. Chhattisgarh Governor Shekhar Dutt was among other dignitaries present during the function.