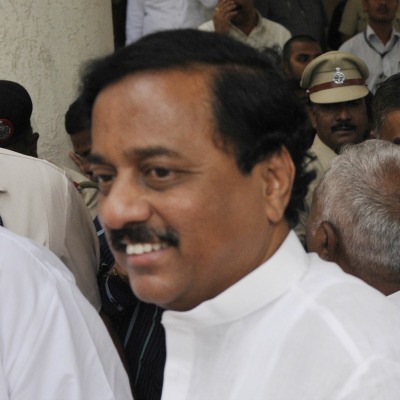 Battered in Lok Sabha elections, National Congress Party (NCP) on Wednesday replaced its Maharashtra unit chief Bhaskar Jadhav months ahead of assembly polls with backward class leader Sunil Tatkare.
Tatkare, state's water resource minister and a close confidante of Deputy Chief Minister Ajit Pawar, was appointed the new president of state NCP at its extended working committee meeting, ending a year-long stint of Jadhav, a leader from the influential Maratha community.
According to party sources, NCP chief Sharad Pawar, himself a Maratha, was keen on having an OBC leader at the helm of party's state unit ahead of the crucial assembly polls as it attempts to secure a fourth straight term in office along with ally Congress. The sources said the choice of Tatkare, who hails from Mali community, reflects party's eagerness to capture a chunk of the OBC space following the demise of BJP's hugely popular backward class leader Gopinath Munde.
"With Munde's demise, there is a vacuum in OBC leadership in the state," an NCP leader said, adding elevation of Tatkare could help the party woo the backward classes who constitute a large chunk of the electorate. The Congress-NCP alliance suffered a humiliating defeat in the Lok Sabha elections, together winning just six of 48 seats. While NCP won four seats, Congress could manage only two, in worst ever performance by the alliance partners, in power in Maharashtra since 1999. Addressing the extended working committee meeting after Tatkare's election, Sharad Pawar admitted the upcoming polls would be difficult but asked partymen to put defeat in the Lok Sabha elections behind them.
Pawar said there was resentment against the Congress and the UPA and his party had to "bear the brunt" despite having "limited" role in governance. "We had to bear the brunt. Even though NCP had a limited role in governance (at the Centre)," he said, adding "UPA government was not able to respond effectively to the allegations of corruption since the Anna Hazare movement, when the atmosphere started building against the government." He underscored the need for the alliance to reach a seat- sharing arrangement through consensus to put up an effective showing.
In an indication that NCP would try to drive a hard bargain with Congress, Tatkare called for reworking the seat- sharing formula on the basis of performance of the two parties in the Lok Sabha elections.
"Seat-sharing with Congress has to be reworked as per 2014 Lok Sabha results," he said. Congress had contested 174 seats in 2009 assembly polls and NCP 114. Referring to the thumping victory of Shiv Sena-BJP alliance in the Lok Sabha polls, Tatkare said, "Tsunami does not happen repeatedly. We have to gear up to ensure that NCP emerges as the single largest party."