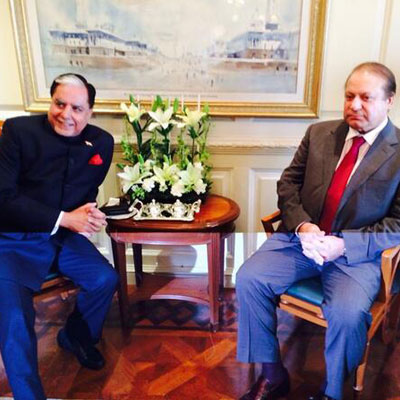 Pakistan Prime Minister Nawaz Sharif, today, met with the Essel Group Chairman Subhash Chandra to discuss relaxation of certain norms for their new channel Zindagi.
Essel Group's Managing Director and Chief Executive Officer Punit Goenka, on Monday, excitedly tweeted about the meeting between the Pakistan prime minister and Chandra.
Jodey Dilon Ko:Chairman Sh SubhashChandra in conversation with Pakistan PM NawazSharif at the launch of @ZeeZindagiTV pic.twitter.com/BOEbSPPHUm

— Punit Goenka (@punit_goenka) May 26, 2014
Zindagi is the latest channel to be launched by the Zee Entertainment Enterprises that will showcase Pakistani serials and telefilms. This move is completely in line with the company mantra 'Vasudhaiva Kutumbakam' which means 'the whole world is a family' as the company's owners believe that though nations are superficially different in terms of language and culture, the stories and emotions are universal.
This is great news for both the countries, indicating that both the Indian and Pakistani governments are set to take off in a direction towards peace. The channel which would mark a new beginning for cultural exchanges between the two countries and build a common ground between the people of both nations.
Jodey Dilon Ko (bringing hearts closer) is what the channel promises can now truly happen since both countries bound by common history, language and culture can now bond closely through this cultural exchange. Zindagi would be the first mainstream channel through which Indian viewers can view great content from Pakistan. The makers of the channel have assured that Indian consumers would get the best material created from Pakistan's award-winning novelists, literary stalwarts as many of these shows are adapted from famous novels and books.