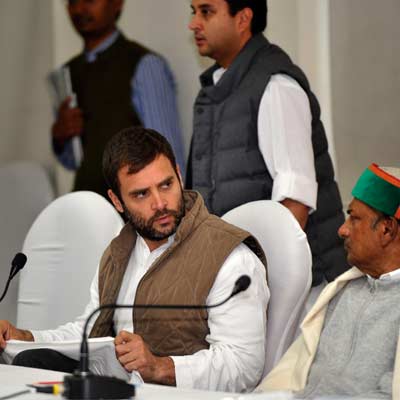 Congress Vice-President Rahul Gandhi and Sports Minister Jitendra Singh today unveiled two ambitious projects - 'National Youth Policy 2014' and 'Rajiv Gandhi Khel Abhiyan', which focuses on education, skill development, employment, entrepreneurship and health.
NYP 2014 and RGKA, a centrally sponsored plan scheme, were launched in the presence of boxers Mary Kom and Vijender Singh, national badminton coach Pullela Gopichand, former athlete Ashwini Nachappa, shooter Ronjan Sodhi, weightlifter Karnam Malleswari and gymnast Ashish Kumar at the Jawaharlal Nehru Stadium. The National Youth Policy (NYP 2014) is a comprehensive policy document that states the vision of the Government of India (GOI) for the youth of the country and also how this vision is sought to be realised by the government.
NYP-2014 caters to needs of the youth in the age-group of 15-29 years, which constitutes 27.5 per cent of population. NYP 2014 identifies the vision and the five key objectives for youth development that are further sub-divided into 11 priority areas. It further suggests policy imperatives that should be implemented in each of these identified priority areas.
NYP 2014 seeks to achieve a productive workforce through education, skill development for better employability and entrepreneurship training; a healthy generation with sports as a way of life; a sense of community service and strong social values; high levels of participation in governance; and social inclusiveness by creating equitable opportunities for all.
The NYP 2014 will be implemented in four steps -
1) GOI will formulate an action plan within 6 months for the implementation of the policy across all the concerned ministries and department;
2) The MYAS also constituted a Youth Council consisting of exceptional youth from across the country to oversee the implementation of the policy;
3) A set of short-term and long-term indicators for measuring the success of the policy, and;
4) The youth are encouraged to engage their elected representatives and the government if there is any shortcomings in the implementation of youth oriented schemes as outlined in the NYP.