Modi discusses post-May 16 strategy with Rajnath, Jaitley and Nitin Gadkari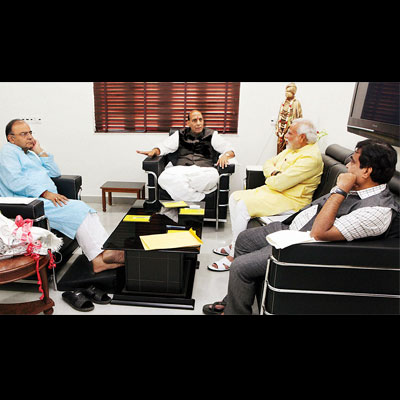 Gujarat chief minister Narendra Modi will definitely be the prime minister, BJP president Rajnath Singh said on Tuesday, while also stating that the role of senior leaders such as LK Advani would be finalised after discussions with them.
Singh, who along with leader of opposition in Rajya Sabha Arun Jaitley and former BJP president Nitin Gadkari, met Modi at his residence in Gandhinagar on Wednesday, was talking to reporters at Ahmedabad
airport.
"We will sit and decide the agenda. However, one thing is confirmed that Narendrabhai is going to be the next prime minister of the country," the BJP president said when asked about the meeting's agenda.
Sources said that BJP's strategy after announcement of results on May 16 was discussed in the meeting. Issues such as approaching potential allies in case the NDA falls short of a majority of its own, people to be inducted in the ministry, role of senior leaders such as LK Advani, Murli Manohar Joshi and Sushma Swaraj, were also discussed.
Asked about the role of party patriarch LK Advani in the NDA government, Singh said that it would be decided after detailed consultations.
"I will call a party meeting to which the veteran leaders will be invited. We will decide on their roles after detailed discussions in the party and with them," Singh, who contested the Lok Sabha elections from Lucknow, the seat former prime minister Atal Bihari Vajpayee represented in the past.
Reports suggest that Advani, who was deputy prime minister in the NDA government, is not keen on a role in a government headed by his one-time-protege Modi. The buzz is that Advani is likely to be offered the post of NDA chairperson or that of Lok Sabha speaker.
He also evaded a direct reply when asked about the person who is likely to succeed Modi as the Gujarat chief minister.
"You will get to know," he said when asked about Modi's successor.
A large section of Gujarat BJP believes that revenue minister Anandi Patel is most likely to be named as the next chief minister. Finance minister Nitin Patel, energy minister Saurabh Patel, Gujarat BJP president RC Faldu, and party's general secretary Bhikhu Dalsania, are among the other contenders.
—(With Agency Inputs)