The meeting between Modi, who is talked about as one of the prime contenders in the BJP for the Prime Minister's post, and Singh lasted nearly two hours.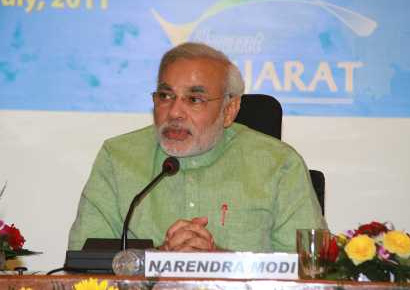 Gujarat chief minister Narendra Modi wasted no time and flew into the national capital on Sunday to meet the newly-elected BJP president Rajnath Singh. Modi had called on Nitin Gadkari as well when he became president in 2010. Ever since he won the Gujarat assembly election for a third time, there has been intense speculation in the political circles, that Modi, the favourite of the social media, will play a larger role in the BJP and he is considered as a hot contender for the prime minister's slot if BJP-led NDA were to form the government.
Modi played the dutiful BJP chief minister towards party chief Singh. When Modi and Singh spoke to the media after their meeting, Modi said that he sought the guidance of Singh in running the Gujarat government and he also discussed what Gujarat contribute to the BJP's election effort in 2014.
Singh said that Modi congratulated him over the phone immediately after his election as president and he had expressed the intention to come over and meet him. Pressed by the media whether the 2014 election was discussed, Singh replied that it was an important issue and that it came up for discussion.
Singh would certainly need the cooperation of a powerful BJP chief minister like Modi and he would want to keep Modi on his right side. Modi on his part would not want to be seen as being overly aggressive and ambitious. The two leaders would want to present a united public front.
Party insiders speaking on condition of anonymity have indicated that the BJP would name its prime ministerial candidate for 2014 in two months' time which will coincide with the national council meeting slated to be held in April