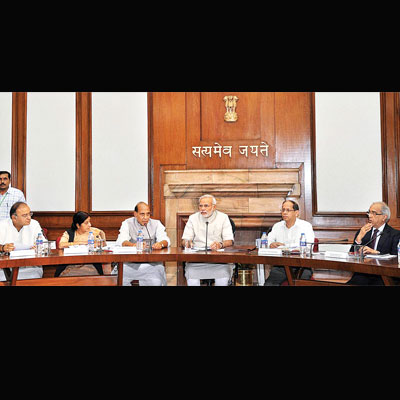 Prime Minister Narendra Modi and his cabiniet got down to work during its very first meeting on Tuesday afternoon. They set up a Special Investigating Team (SIT) under two retired Supreme Court judges to probe black money stashed abroad. Justice (Retired) M.B.Shah will serve as chairman while Justice (Retired) Arijit Parsyat will be his deputy.
The government was responding to the Supreme Court query as to what was being done after the previous UPA government had assured the court that the issue was being looked into. Wednesday is the last date for the government's response on the concrete measures that the government has taken. The Modi government responded promptly without seeking further time from the court.
Law and justice and telecom minister Ravi Shankar Prasad said the government has only responded to the Supreme Court query and has dutifully constituted a high-level SIT, which includes members from CBI, IB, Revenue Intelligence Bureau, Economic Intelligence and Enforcement Directorate.
"Tomorrow is the last date for the government's response in this regard. The Modi government has responded promptly without seeking any further time from the court,'' said Prasad.
"It is a challenging job. It has international ramifications. The countries, where black money is stashed, may try to protect their depositors. We will study the relevant laws of those countries and work out a strategy, Rtd Justice Passayat told dna.
Prasad said the issue of black money stashed away in foreign banks was an issue of primary concern for the party, and that the government had acted promptly to prove its sincerity and commitment to retrieve black money.
The cabinet's second decision related to Monday's Gorkhdam train accident in which 28 persons died, 14 have been seriously injured and 57 sustained simple injuries. Modi had deputed Union cabinet minister Kalraj Mishra and minister of state Manoj Sinha to visit the spot and console the victims. The government has already announced a compensation of Rs 2 lakh for those who died, Rs 1 lakh for the seriously injured and Rs 20,000 for those who sustained simple injuries.
The cabinet is set to meet again on Thursday to decide on the inaugural Parliament session of the new-elected Lok Sabha.
Jaitley: Have to restore investor confidence
Finance Minister Arun Jaitley on Tuesday vowed to restore investor confidence and check inflation as he tries to steer the economy through challenging times and bring it back on the path of high growth.
Soon after taking over as Minister for finance and corporate affairs, Jaitley said that he had inherited a "lot of unpaid bills" and a strained economy. "I am conscious of the fact that I am taking over at a very challenging time, particularly when there is a need to rebuild the confidence of the Indian economy," he said. "The challenges are very obvious. We have to restore the pace of growth, contain inflation and obviously concentrate on fiscal consolidation."
The new finance minister, who pitched for a balance between growth and inflation, had a 50-minute meeting with Reserve Bank of India Governor Raghuram Rajan and discussed the macroeconomic situation and external sector.
'Health more important than wealth'
Promising cent per cent transparent health system in the country, newly appointed Union health minister Dr Harsh Vardhan on Tuesday assured that the government will work to make "health for all" a social movement.
"I am not in favour of taxpayers' money being used to push a one-size-fits-all health policy," said Dr Harsh Vardhan. "We need to connect the national health apparatus for best local practice to make health for all a social movement in the next few years. Health is more important than wealth and we work to realise it."
His plan for a corruption-free and transparent administration involves putting e-governance systems in all government-to-citizens (G2C) and government-to-business (G2B) interfaces at all the ministry's offices. The health minister also promised that he would work towards developing a national health insurance policy covering all citizens.
Dr Vardhan also took cognizance of lifestyle illnesses and fast food culture affecting youngsters' health, and suggested promoting nutritious food and yoga for better fitness. "The problem of over-consumption of fast foods, trans-fat food, etc. is assuming menacing proportions among the young. This must be checked," he said.
Attorney General, Solicitor General appointments soon
Law and justice minister Ravi Shankar Prasad said that his ministry's priority will be to establish a National Judicial Commission so that the Executive has a say in appointing judges, improve judicial infrastructure, appoint more judges and create an atmosphere to improve access to justice.
"For good governance, good legal access is essential. The government will create an atmosphere to improve access to justice," said Prasad, a Rajya Sabha MP from Bihar, who is also a practising Supreme Court lawyer.
Prasad said that key law officers — Attorney General (AG) and Solicitor General (SG) for the Supreme Court, and Additional Solicitor General (ASG) for high courts, "will be appointed soon."
Later on Tuesday evening, AG GE Vahanvati and SG Mohan Parasaran tendered their resignations.