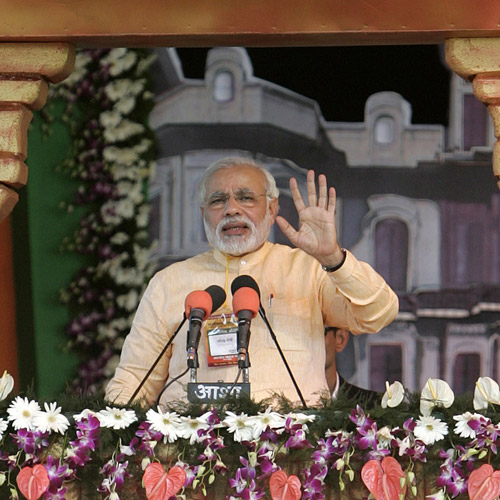 In an apparent reference to the media blitzkrieg around the Aam Aadmi Party (AAP), the BJP's prime ministerial candidate Narendra Modi supported decentralisation of power here today, while toeing his "vote for the country, not for the party" line during his rally in Goa.
"We believe in decentralisation of power. We believe in giving power to the people," Modi told a rally of one lakh odd people near Panaji today in the presence of BJP president Rajnath Singh.
Taking jibes at Congress during his speech, he appealed to the people "to vote for the country and not for the party".
"Vote for India. Don't vote for any particular group or a party or any individual," he said, making a pitch that voting for the BJP means voting for India's brighter future.
"We (BJP) have only one religion and that is, India first. We have only one religious book and that is the Indian constitution. We only have one worship and that is worship of the nation," Modi said, during his hour-long speech.
Modi also tried to refute AAP leaders' simple lifestyles claiming that despite being in public life for several years and ruling the country, former Prime Minister Atal Bihari Vajpayee has no house of his own to stay.
"Do you want any other example of simplicity?" he asked.
Modi said that Goa Chief Minister Manohar Parrikar has been hailed for his simplicity and administrative capabilities.
"Imagine what would have happened if Parrikar was in Delhi. The media cannot see anything other than Delhi," he said.
He said that the BJP has the power to make leaders out of the commonest of men.