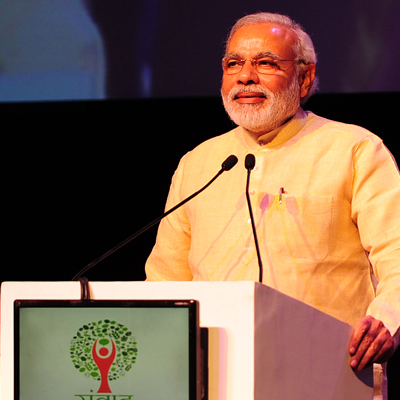 Amidst controversy sparked by VHP leader Pravin Togadia statemnets targeting minority communities, BJP Prime Ministerial candidate Narendra Modi tweeted responses, where, without actually naming Togadia, he expressed his disapproval for those who were pulling away from the BJP's focus on development while claiming to support it.
With great happiness, the entire nation is looking towards BJP for going to people solely on the issues of good governance & development.

— Narendra Modi (@narendramodi) April 22, 2014
Petty statements by those claiming to be BJP's well wishers are deviating the campaign from the issues of development & good governance.

— Narendra Modi (@narendramodi) April 22, 2014
I disapprove any such irresponsible statement & appeal to those making them to kindly refrain from doing so.

— Narendra Modi (@narendramodi) April 22, 2014
Togadia and Modi, once allegedly close had a falling out after Modi's second term as chief minister and his increasing focus on welfare and development models as opposed to a radical Hindu agenda.
Togadia's hate speech where he was apparently quoted as having said, "We should have it in us to take the law in our own hands in an area where we are a majority and scare them".
Similar statements were made by BJP leader Giriraj Singh where he said that those who opposed Modi should go to Pakistan and defiantly stood by his statement tweeting that he maintains his stand on many Pakistani pro opposing Modi.
Such statements are being made in an environment of an increasingly polarised election where many statements being made by BJP leaders are seen as being influenced by a Hindutva ideology.