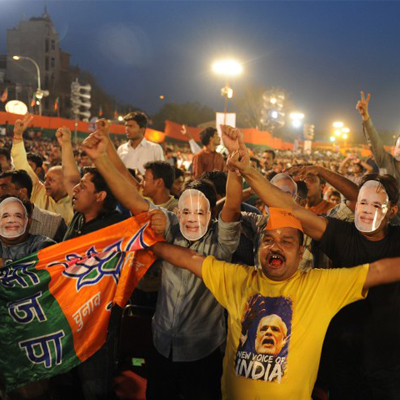 Bharatiya Janata Party (BJP) prime ministerial candidate Narendra Modi will address poll rallies in Madhya Pradesh and Chhattisgarh today.
The Gujarat Chief Minister will address poll rally in Maoist hotbed Bastar in Chhattisgarh as well as Balaghat and Mandla in Madhya Pradesh
The BJP has fielded former Union minister, Faggan Singh Kulaste from Mandla, while the Congress has given its ticket to senior party leader Omkar Markam.
From Maoist-affected Balaghat seat, Bodh Singh Bhagat would contest on a BJP ticket against Hina Kavre of Congress.
Meanwhile, security has been beefed up across naxal-affected Bastar region in Chhattisgarh ahead of Modi's rally.
Bastar will alone go to polls in the first phase of Lok Sabha polls in the state on April 10
Chhattisgarh will undergo a three-phased polling for all 11 parliamentary constituencies next month.