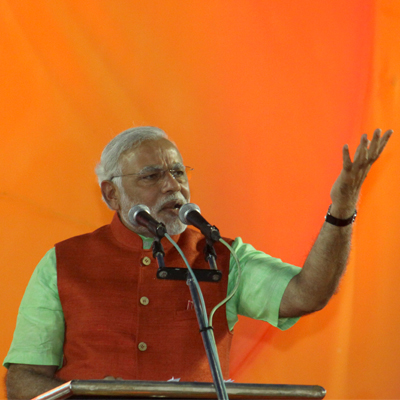 Bharatiya Janata Party (BJP) prime ministerial candidate Narendra Modi on Wednesday scathingly attacked the Congress' weak approach to protecting the interests of both the country's security forces and farmer. He said the ruling UPA's new slogan is 'Mar Jawanm, Mar Kissan (Die Soldier, Die Farmer)."
"Lal Bahadur Shashtri used to say 'Jai Jawan, Jai Kisan'. Today's Congress and UPA seems to have adapted that slogan to 'Mar Jawan, Mar Kisan,' the Gujarat Chief Minister said while addressing the first of his three Bharat Vijay rallies for Wednesday in Jammu.
He said the Congress is misleading the people by wearing a veil of secularism to hide their failures.
"When I say the youth needs employment, they say secularism will be in danger; I talk of farmers problems, and they again say secularism first. These are people who have no answers for the 125 crore people of India and they're trying to mislead the masses by empty slogans of secularism," he said.
"In my kind of politics, you have to work 18 hours (a day) trying to alleviate the suffering of the poor and downtrodden and implement new ideas of development everyday. The Congress can't walk this path," he added.
Prior to the rally on Wednesday, Modi reached the Vaishno Devi shrine in the Trikuta hills in Katra and sought the blessings of the Goddess.
Earlier, he reached Udhampur Airport and then took a chopper to the Sanji Chat helipad and proceeded to the cave shrine riding on a white horse.