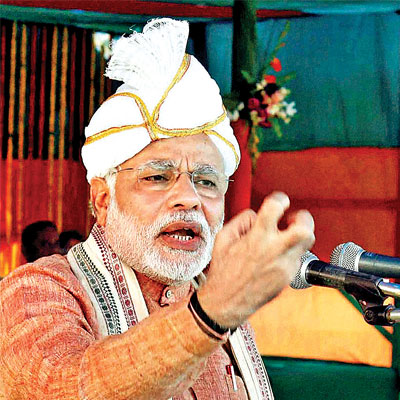 Bharatiya Janata Party prime ministerial candidate Narendra Modi on Saturday asked China to shed its "expansionist mindset" saying the world today does not recognise this.
"There was a time when the ancient rulers adopted expansionist policies to give a proof of their might. One kingdom used to fight with another to expand its territory. But time has changed now. The world today doesn't accept or recognise expansionist mindset," Modi said at a rally at Pasighat in Arunachal Pradesh, parts of which Beijing has often laid claims to. Earlier on Saturday, Modi had addressed rallies at Silchar in Assam and Agartala in Tripura.
"China should also shed its expansionist mindset and adopt one that is development-oriented. The world today hails development initiatives and as a result, the parameters of advancement have also changed. They are weighed in areas of people's happiness, technologies etc," he said.
China often claims that Arunachal Pradesh, particularly its border town Tawang, as its territory. Modi said he stood for development as it alone could remove people's sadness.
"Vajpayeeji (former prime minister Atal Behari Vajpayee) gave special attention to the Northeast for its holistic development. I pledge that if the BJP is voted to power, I will take his initiatives forward," Modi said.
He said that the youth of Arunachal Pradesh and the rest of the Northeast need infrastructure in education and job opportunities. "External forces often try to lure and mislead them. We should guard against such attempts given Arunachal's strategic importance," Modi said, without naming China, Bhutan and Myanmar, which share their borders with the Indian state.
Calling Arunachal the "land of rising sun" and the "paradise of botanists", Modi said no force in the world can snatch the state from India. "The people of Arunachal are indeed patriots. Because they are patriotic in nature, they could give a befitting reply to the advancing Chinese army during 1962. And later during the Kargil war, youths from the state had fought valiantly," Modi said.