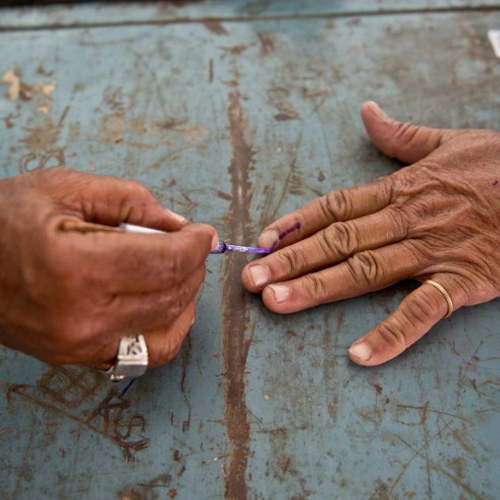 The seventh phase of the Lok Sabha elections kick off today with voting in 7 States and 2 Union Territories, with some of the big guns of Indian politics in the fray.
Yet again, Congress and BJP have big stakes in today's elections with 35 and 23 seats in their bag respectively which were won in the last elections. Stakes are also high for the ruling Shiromani Akali Dal in Punjab which has four seats and is locked in a bitter contest with Congress.
Modi is seeking to make his debut in Lok Sabha by contesting from Vadodara, which is among the 26 seats in Gujarat going to polls in a single phase tomorrow. He is pitted against Madhusudan Mistry of Congress.
ALSO READ: Narendra Modi, LK Advani, Madhusudan Mistry among 7 key candidates in Gujarat in 7th Lok Sabha elections 2014
Congress President Sonia Gandhi is seeking re-election from Rae Bareli, BJP President Rajnath Singh is contesting from Lucknow, once represented by former Prime Minister Atal Bihari Vajpayee in Lok Sabha.
ALSO READ: Sonia Gandhi, Uma Bharati, Rajnath Singh among 10 key candidates from Uttar Pradesh in 7th phase of Lok Sabha Elections 2014
Along with Gujarat, Punjab will also witness polling in a single phase tomorrow with Leader of the Opposition in the Rajya Sabha and BJP leader Arun Jaitley pitted against former state Chief Minister Amarinder Singh in the keenly fought electoral battle in Amritsar.
ALSO READ: 7 key fights to look out for in Punjab in the 7th phase of Lok Sabha elections 2014
In Jammu and Kashmir, Srinagar is the sole constituency that will go for poll tomorrow. National Conference chief and Union minister Farooq Abdullah is seeking re-election from the seat which has seen a poor voter turnout in the past due to militancy. The Union Minister is pitted against 11 others, the most formidable among them being former state Finance Minister and PDP leader Tariq Hameed Karra.
In Bihar, seven constituencies are going to polls tomorrow in the fourth of the six-phase Lok Sabha election in the state. Prominent among the candidates are JD(U) president Sharad Yadav from Madhepura, being challenged by RJD's Rajesh Ranjan alias Pappu Yadav, and cricketer-turned BJP leader Kirti Azad from Darbhanga and his challenger former Union minister and RJD leader MAA Fatmi.
In West Bengal, 87 contestants will fight it out in nine constituencies that are going to polls tomorrow in the third of the five-phase Lok Sabha election in the state. Among the candidates are BJP's Bappi Lahiri, journalist-turned politician Chandan Mitra and actor George Baker, who carry the hopes of the party leadership to score big for the first time in the state.
ALSO READ: 9 constituencies of West Bengal go to polls in the 7th phase of Lok Sabha elections
TRS, which spearheaded the campaign for Telangana state, and Congress, whose government at the Centre cleared the new state proposal, are said to be involved in a hard-fought contest over credit for the new state. TRS has two Lok Sabha seats while TDP has two from the region.
ALSO READ: 7 key constituencies for 7th phase of Lok Sabha polls in the Telangana region
ALSO READ: Why is Hyderabad an important constituency this Lok Sabha polls?
In the Union Territories of Daman and Diu and Dadra and Nagar Haveli, BJP is making all out efforts to retain the two seats.