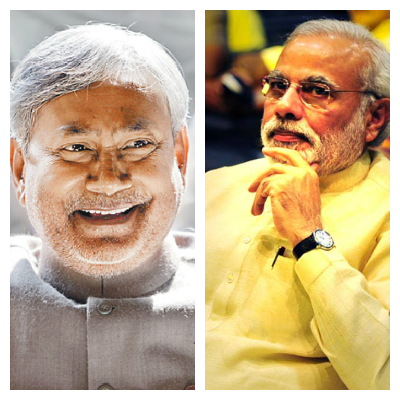 BJP prime ministerial aspirant Narendra Modi today slammed the UPA and the Nitish Kumar government in Bihar for "inadequate facilities" for security personnel and said the Centre's failure to address the plight of farmers reflected its policy of 'Mar Jawan, Mar Kisan'.
Addressing an election rally here, Modi said the UPA's policy vis-a-vis jawan's and farmer's was a far cry from the former prime minister Lal Bahadur Shastri's call for 'Jai Jawan Jai Kisan' five decades ago.
Referring to a televised clip of the wailing of an injured CRPF jawan Dileep Kumar for a helicopter to be rushed to hospital, Modi said, "Ek jawan ko maut ke samne jhujhana parha hai kya isi ko jai jawan kehte hai (a jawan has to fight for light and stare at death...does it reflect the motto of jai jawan)?"
The jawan was among seven security personnel and policemen injured in a landmine blast under Dibra police station area in Aurangabad district three days ago.
Three CRPF men, including its Deputy Commandant Indrajit Singh, were killed in the land mine blast while defusing the high-intensity explosive.
Similarly, he said, the Centre had failed to ensure fair remuneration for crops as a result of which a large number of farmers have committed suicide across the country.
"Our motherland has been bloodied with the suicide of farmers in large numbers," he said and slammed the UPA government for bringing doom for the farmers and soldiers.
Modi, who is spearheading NDA's campaign to oust the UPA government from the Centre at the hustling by giving a call for 'Congress-mukt' Bharat, tore into the UPA government for indulging in corruption during its decade-long rule.
"The former prime minister Rajiv Gandhi had famously said that only 15 paisa out of Re1 released by the Centre reached the people, but I say that only Rs12 out of Rs100 go to the intended beneficiary due to corrupt system," he said.