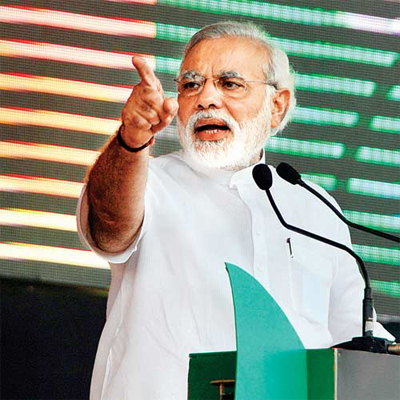 Commenting on the alliance between the Bharatiya Janata Party (BJP) and the Lok Janshakti Party (LJP), Congress leader Shakeel Ahmad on Friday said that BJP prime ministerial candidate Narendra Modi should introspect his own party before criticizing others of family politics as he was doing the same.
"Modi always criticizes the Congress for playing family politics, but before criticizing others, he must look in his own party," said Ahmad.
"The LJP has joined the National Democratic Alliance. Now there are Badal, Thackeray and Paswan families in the BJP, and all these families follow dynastic politics," he said.
He further said that Vilas Paswan joining the NDA did not make sense as Paswan had left BJP due to Modi's role in the Gujarat riots.
"Paswan was in NDA 11 years ago. He had left the NDA because of BJP and Narendra Modi's role in Gujarat riots," said Ahmad.
"He was angry that Modi did not resign from his post taking responsibility for the riots and now he has joined them to make Narendra Modi the PM," he said.
"We don't understand the logic behind it," he added.
The BJP and the LJP have sealed a seat-sharing pact for the coming Lok Sabha elections in Bihar.
The LJP will fight seven out of the 40 Lok Sabha seats in the state under the deal.
The pre-poll alliance of the Ram Vilas Paswan-led party with the BJP led National Democratic Alliance comes 12 years after it quit the alliance over Gujarat riots issue.
BJP President Rajnath Singh made this announcement at a news conference after Central Committee meeting of the BJP here yesterday. He said the BJP will contest the remaining 33 seats in Bihar.
Paswan exuded confidence that the next government will be formed by the NDA.
Paswan said his party would support BJP's prime ministerial candidate Narendra Modi for country's top position.
"The next government at the centre will definitely be that of the National Democratic Alliance. Before you ask me about Modi, I will inform you that the BJP has already decided on Modi as its prime ministerial candidate and we will go with that," he said.