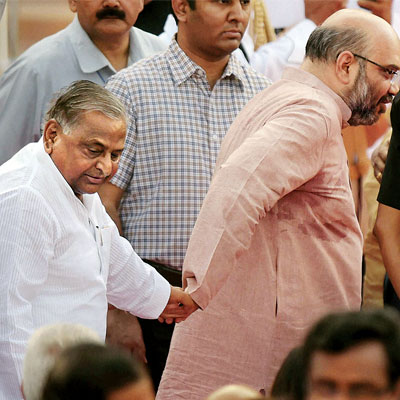 One of the interesting aspects of prime minister Narendra Modi's cabinet formation is the inclusion of all the party bigwigs in his government.
Party chief Rajnath Singh, former presidents Nitin Gadkari and M.Venkaiah Naidu, leaders of opposition in the last parliament, Sushma Swaraj and Arun Jaitley, Uma Bharti, Gopinath Munde are all now in the government. There is no senior leader left free to handle the party.
With Rajnath Singh coming into the cabinet, the party will have to look for a new president. Modi, it would seem, would want to have a tight grip over the party organisation as he has on the government. He knows that it is the party that fights the election and he would be keen to keep the organisation fighting fit.
Attention turns on to Modi's confidant, Amit Shah, the architect of the Uttar Pardesh poll tsunami where the party won 73 of the 80 Lok Sabha seats from the state. It is assumed that Modi would want to use Shah's talent for galvanising the organisation. It is believed that Shah would relocate to Maharashtra to steer the assembly election campaign in the state later in the year.
Shah has been keeping a low profile after his meteoric success. Shah many a time has said that he was content to be a general secretary in the party and would do whatever work the party assigns him. With all the senior leaders sent off to man the government, it is possible that Shah could be given an important assignment in the party.
There is speculation that JP Nadda, one of the general secretaries and someone who is considered to be long-time friend of Modi, could be asked to take over as party president and Modi would very much like this to happen. It will be a bold move on the part of Modi if he were to push Shah for the party president's post.
It is a known fact that for important decisions like choosing the party president, Modi will have to consult the RSS top brass.
Both Nadda and Shah will play the party game according to Modi's plans.
During the campaign, it seemed that the duo of Modi-Rajnath Singh were running the party. With Singh out of the way, Modi would want to run the party as well through his trusted aides.