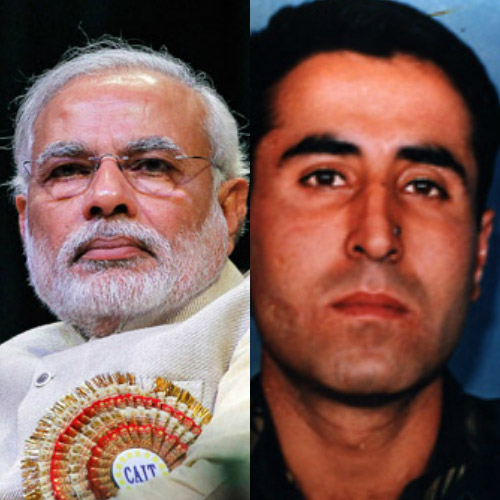 Narendra Modi, in yet another over zealous speech, has managed to irk sentiments once again. This time his target is an innocent mother. Modi in his recent speech invoked the Indian martyr Vikram Batra, the man who lost his life while trying to acquire point 4875.
Speaking of the Congress incumbency in governance, Modi said "Vikram Batra died for the country - he had said - yeh dil maange more. I say it too. I want all four seats in Himachal. I want 300 lotuses across India."
This misplaced use of references in his speech may have not gone down too well with people. As the news surfaced, Indians reacted to the comments made by the Saffron party leader.
@sardanarohit & aap khud hi vikram batra ke naam pe vote maang rhe hai.. unko apni galti dikhayi nhe deti..

— vineet khasa (@vin_khasa18) April 29, 2014
Capt Vikram Batra was honored with Param Vir Chakra for his act of bravery. Why does his mother think the #BJP should give HER a walk over?

— Amit Malviya (@malviyamit) April 29, 2014
Wasn't Vikram Batra 's mother also using the name of his son martyr (for votes & emotional appeal)? Why else did AAP gave her ticket?
— Tinu Cherian Abraham (@tinucherian)
April 29, 2014
Now, will you going to send Shaheed Vikram Batra's mother Pakistan,coz She's with @AamAadmiParty ?? #BJPKeGundey

— उत्कर्ष (@Utk_Rai) April 29, 2014
I wonder what Vikram Batra's mom must be going through. To be brainwashed by AAP handlers like this, only to be forgotten after elections

— AnonDesi (@AnonDesi) April 29, 2014
Vikram Batra died for d country to keep kashmir as a part of india.while his mother supports a party which wants to gift kashmir to pak y?

— fan of arun shourie (@arunshourie8) April 29, 2014
Yeh Dil Maange More advertisement from 1996world cup.Vikram Batra said it in july 1999 .his parents should stop lying pic.twitter.com/3glyLrcdLb

— fan of arun shourie (@arunshourie8) April 29, 2014
"Vikram Batra died for the country - he had said - yeh dil maange more. I say it too." How can this be "politicising it" ?

— Ashok (@nationalizer) April 29, 2014