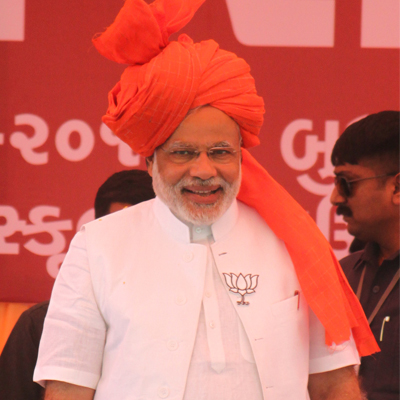 The Bharatiya Janata Party's prime ministerial candidate, Narendra Modi, has said that his current political tsunami will wash out the ruling Congress Party.
Addressing an election rally in Bihar's Saharsa district on Thursday evening, he said: "There is tsunami-like wave in the entire country, and this tsunami would wash out the existence of the Congress party."
Women and young voters came out in large numbers to cast their ballot for seven parliamentary seats in Bihar on Thursday, the nation's second biggest polling day in the sixth phase of ongoing general election. In Bihar, where the polling is taking place for 40 seats in total, is voting in six phases. Province's beleaguered Chief Minister Nitish Kumar is up against BJP, ruling Congress and regional Rashtriya Janata Dal (RJD).
Modi also emphasised on carrying forward the vision of former prime minister Atal Bihari Vajpayee. "Atal Bihar Vajpayee had a vision of interlinking the rivers of India and Nepal and we are going to take forward his vision after coming to power," said Modi.
Polls have consistently shown voters favouring Modi, a divisive but charismatic figure, to lead the country – gaining a march over his main opponent Rahul Gandhi, the political heir of the Nehru-Gandhi dynasty appointed to lead the Congress campaign.
The BJP and its allies are set to win a narrow majority of the 543 parliamentary seats, defeating the ruling Congress party, in the world's largest democratic election, the latest opinion poll showed on April 15.
Voting in the world's most populous democracy, where about 815 million people are expected to cast their votes, is phased over several weeks, and concludes May 12. Results of the elections are due on May 16.